Costa Rica/Guanacaste: Playa Hermosa
Pura Vida
Dining and Lodging
Playa Hermosa has a variety of luxury home and villa rentals (both near the beach and on the surrounding hills, many in gated communities) easily accessible through various online rental sites. Since the beach is the main attraction here, we prefer staying on the beach. The best option for those willing to spend a bit more is the Hotel Bosque Del Mar, a comfortably-sized hotel with large rooms, a pool and a good restaurant located right on the beach. This hotel can support destination weddings, incentive groups or corporate retreats of up to 100 people and offers meeting facilities as well.
Also with a beachfront location is the Hotel Condovac La Costa. It is lower priced than Hotel Bosque Del Mar, with a less consistent level of quality in the rooms and service, but nonetheless offers a good value and location and can accommodate destination weddings and other small groups. Note the hotel website is in Spanish; you can also find information on Tripadvisor.com.
The Hotel El Velero is the third beachfront option, a small pleasant hotel for the price with a great location and a generally good restaurant.
If you don't mind being a short distance from the beach, the Hotel Mangaby is just a block away and Hotel La Finisterra, a bit further away, has great views. Both are among the best rated hotels on Tripadvisor.com.
Dining
All dining at Playa Hermosa is casual, with the emphasis on seafood, but plenty of selection for all tastes. None of the places we patronized offered world-class dining, but Roberto's and Aqua Sport have good food right on the beach. While the restaurant at the hotel Bosque Del Mar gets low ratings on Tripadvisor.com, we found it comparable to other local options. The restaurant at the El Velero also has a water view.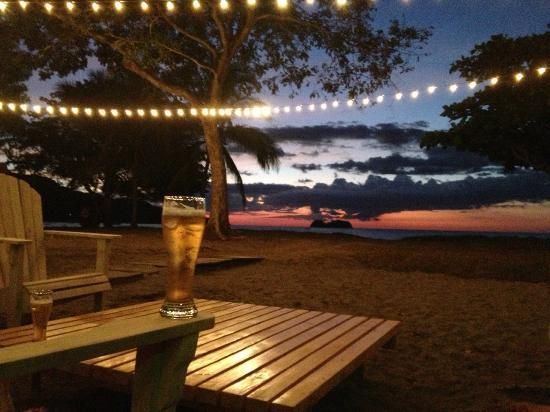 For a change of pace away from the beach, there's Pan-Asian at Ginger and both Costa Rican food and good pizza at Bocelli. The Mangaby and La Finisterra hotels also offer comparable quality to the other selections above, with the latter featuring expansive views of the Gulf of Papagayo.