New Travel Products Recommended by Short Escapes Editors
Short Escapes editors recommend the following new products for leisure and business travelers. Recommended products are editorial judgments independent of advertising.
DASH Hardside Pro Carry-On Luggage
MSRP: $179.99
www.brookstone.com/dash-luggage
This lightweight, durable polycarbonate carry-on fits in most aircraft overhead bins. Its 360-degree spinner wheels provide greater maneuverability, and its "quick-access" pockets make for an easy grab of an airline ticket or a passport.
Dimensions: 22 inches tall, 14.6 inches wide, 10.4 inches deep. Weight: 7.5 pounds.
ChargerLeash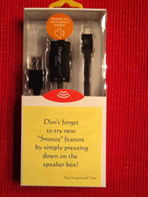 MSRP: $34.99
www.chargerleash.com
This 4-foot charging cable plugs into an iPhone or an iPad and ensures you don't leave it behind when departing from a hotel or any other place. The cable's audible alarm reminds users to take it with them after disconnecting their mobile devices. The cable has a "snooze" feature to silence the alarm whenever one wishes. Compatible with iPhone 5, iPad (4th gen.), iPad mini, iPod touch (5th gen.) and iPod nano (7th gen.).
iTOi Video Booth for iPad
MSRP: $149.99
www.seeitoi.com

The iTOi Vodeo Booth, sold by Brookstone, enables users to maintain direct eye contact with video chat partners and audiences. It enhances sound capture and projection, improving users' and chat partners' ability to hear one another clearly. The booth also reduces screen glare to present a more flattering image. A free iPad app transforms the booth into a mini video production suite for professional quality videos. iTOi works with Skype, FaceTime and YouTube and is compatible with iPad Air (1st and 2nd gen.) and iPad 2, 3 and 4.