USA/South: Fredericksburg, TX
Deep in the Heart of Texas Hill Country
Overview
The Highlights: Unique German immigrant heritage and culture; winemaking and vineyards; excellent hiking, biking and kayaking; verdant hills, lakes, fields, canyons, caverns and wildflower trails.
Other Places Nearby: The Texas Wine Trail, Luckenbach, LBJ Ranch & Historic Site, National Museum of the Pacific War.
Meetings & Event Options: The Fredericksburg area offers more than 1,000 hotel/motel rooms and numerous B&Bs, guesthouses, guest ranches and inns. It also has distinctive off-site venues, unique conference facilities and meeting spaces, more than 90 restaurants and 13 wineries.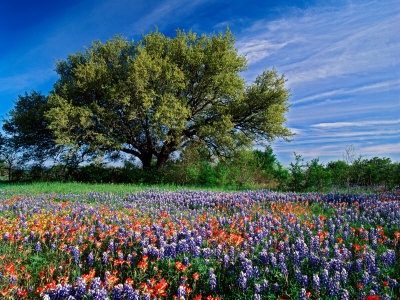 In the middle of the Lone Star State—north of San Antonio and west of Austin—you'll find Texas Hill Country, a 14,000-square-mile geological anomaly that's all about wildflowers, vineyards, history and outdoor adventure.

Doesn't sound like your typical Texas landscape? It's not. In fact, in the middle of Texas Hill Country you'll find Fredericksburg, a place so unlike the rest of the Lone Star State it has its own language. Texas German, an odd mix of English and 19th-Century German that's near extinct, is still spoken by more than 2,000 people in Fredericksburg and surrounding Gillespie County.

Why the heck are people speaking German in Texas? Well, in the 1830s and 1840s, German artists, writers, poets, professors and scholars, fearing persecution in their homeland and drawn by tales of land grants and an ideal climate, came to Texas and became farmers, ranchers and cowboys. It's estimated that more than 10,000 German families came to this part of Texas during that time. Today, Germans make up the largest ethnic group in Texas derived directly from Europe. Nearly 3 million Texans claimed pure or partial German ancestry in the 1990 U.S. Census—17.5% of the state's population. By that count, Germans rank just behind Hispanics as the third-largest national-origin group.
It's a unique heritage that gives this part of the state a different flavor—not just in its language and culture, but also in its architecture, cuisine and connection to the land.
Once you know this, certain things begin to fall into place: Fredericksburg native and WWII hero Admiral Chester Nimitz (son of first-generation Texas Germans Anna Josephine Henke and Chester Bernhard Nimitz); the nearby, non-Texas-sounding towns of Luckenbach, New Braunfels and Pflugerville; Shiner Bock beer; Schlitterbahn Water Parks; the Sunday House; Fischer & Wieser's jams, jellies and sauces…and these are just some of the most well-known examples.
The Fredericksburg area is also home to a host of guesthouses, restaurants and other businesses that are a direct outgrowth of this distinctive German lineage. But the most direct link is found in the area's vast array of vineyards—42 of them, to be exact—scattered across the Hill Country. There are nearly a dozen in just the 45-mile stretch of Route 290 between Johnson City and Fredericksburg, each with its own personality, terroir and style of winemaking. And nearly all offer the opportunity for outdoor walks and hikes through the rolling fields and along the area's back roads, as well as unique spaces for events and gatherings and some of the best wines in the USA. Wine Enthusiast magazine recently named Texas Hill Country one of the 10 Best Wine Travel Destinations in the world, a list that includes locales in Germany, France, Argentina, Italy and Australia.
Wine and Wandering
A number of companies in the area offer wine tours that can accommodate groups and take care of all the necessary logistics. Or you can put together an itinerary on your own with as few (or as many) stops as you wish – a great way to spend the day or the weekend enjoying the unsurpassed scenery of vineyards, rolling hills and, in late spring, acres of wildflowers as far as the eye can see. And let's not forget the wine…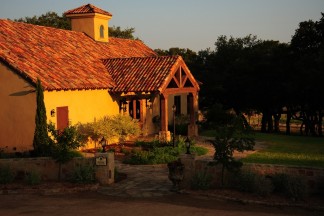 Our abbreviated tour begins at Grape Creek Winery & Vineyards. Its romantic Villa tasting room and event center is billed as a slice of "Tuscany in Texas," a sentiment you'll quickly embrace as you relax on one of the many terraces in the shade of tall oaks overlooking five estate vineyard blocks that currently produce award-winning Montepulciano, Aglianico and Chenin Blanc.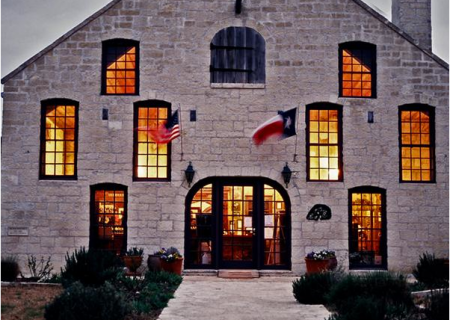 Next there's Becker Vineyards, with its impressive and imposing main building, a 10,000-square-foot reproduction of a late 19th-Century German stone barn where the winery and tasting room are housed. The 46-acre estate also includes the Lavender Haus reception hall, an 1,800-square-foot facility available for wine dinners, corporate retreats, receptions, weddings and other events involving up to 120 people. The timber frame vaulted ceiling, native cypress walls, wrought iron chandeliers and large limestone fireplace add to the Texas-meets-Provence-style ambience. For more intimate gatherings, there's the Reserve Wine Library in the barrel cellar. Groups of up to 20 can gather around the hand-hewn mesquite table after a behind-the-scenes tour of the production area, sampling wines via tank and barrel tastings and culminating with a first-rate wine and cheese pairing.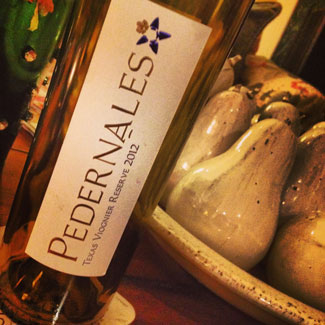 Pedernales Cellars, owned and operated by the Kuhlken and Osterberg families, is next. This boutique winery is located in Stonewall, just 15 minutes east of Fredericksburg, and its Tasting Room features an inviting great room with three tasting stations. The building, flanked by an outdoor wood patio, sits atop a unique 4,000-square-foot underground winemaking facility that uses natural limestone insulation and a state-of-the-art geothermal cooling system to maintain an ideal cellar temperature year-round. Back above ground, the winery's Reserve Room offers small groups a top-tier tasting experience led by a sommelier or wine professional with a detailed knowledge of wines. Tastings are limited to six people per 50-minute session.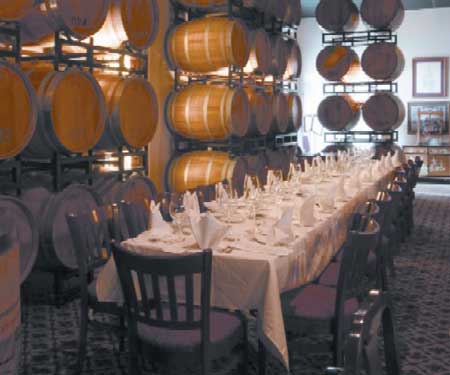 Nearby, Messina Hof Hill Country Winery & Resort holds its own with a 200-year history of award-winning wines. Although the winery was officially established with its first vintage release in 1983, founder Paul Bonarrigo's winemaking pedigree dates back six generations to Messina, Sicily, and his wife Merrill's family is from Hof, Germany. The tradition of Messina Hof is reflected in the Guest Center, where visitors can tour the 19th-Century estate home originally built as a convent. The deck and lake behind the winery provide a perfect setting for a relaxing picnic with a vineyard view, or you can opt for the Vintage House Restaurant, serving cuisine accented by fresh herbs and vegetables from the vineyard garden. For an extended stay, the winery's Manor Haus B&B offers four individually-themed bungalows that include a private entrance, a living room and a kitchenette.
History Around Every Bend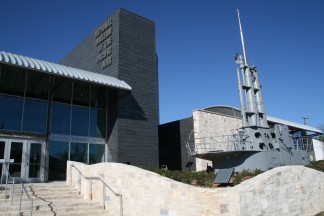 History buffs will want to plan a visit to the National Museum of the Pacific War in Fredericksburg, the only institution in the country dedicated exclusively to telling the story of the Pacific and Asiatic Theaters in World War II. First opened in 1968 in the nearby Steamboat Hotel, once operated by Admiral Nimitz's grandfather, the museum has since expanded to a six-acre campus, gaining a reputation as one of the premier military museums in the nation. Long before the wineries, galleries and boutiques arrived in Fredericksburg, the National Museum of the Pacific War attracted thousands of visitors to this tiny Texas town. They were largely veterans and their families who came to tour the 33,000-square-foot George H. W. Bush Gallery and its 900 artifacts, hundreds of photographs, Memorial Courtyard, Plaza of Presidents and Japanese Garden of Peace.
There's more history just down the road at the LBJ Ranch near Stonewall, now part of the Lyndon B. Johnson National Historical Park, President Johnson had a deep attachment for place and heritage – the LBJ Ranch was where he was born, lived, died and is buried. After the president's death in 1973, Lady Bird Johnson continued to live at the Ranch part-time until her death in 2007. Visitors can tour the LBJ Ranch at their own pace by car or van and are free to stop at sites along the way, such as the President's birthplace, Johnson family cemetery and the famous "Texas White House." A veritable time capsule of the 1960s, this is another must-see stop on any trip to Fredericksburg.
So, are you worn out yet? Texas Hill Country offers so much to do that you'd be forgiven for being a little tired after a day or two of all this activity. But that's Texas for you. Even the small towns have big agendas. And Fredericksburg certainly fits that bill.