USA/South: U.S. Virgin Islands
Nature and Nurture
Overview
The Highlights: St. Thomas and St. Croix are easily accessible from numerous U.S. cities, and because they're part of the U.S. Virgin Islands, no passport is required for U.S. citizens. The islands offer everything from shopping and dining in bustling Charlotte Amalie (St. Thomas) and Christiansted (St. Croix) to secluded snorkeling at Buck Island off St. Croix, and accommodations run the gamut from rustic beachside cabanas to high-end luxury suites.
Other Places Nearby: St. John, the third of the U.S. Virgin Islands, is largely undeveloped and unspoiled, since 60% of it has been designated a National Park. The British Virgin Islands (Tortola, Virgin Gorda, Anegada, Jost Van Dyke and a number of smaller islands and cays) are easily accessed by ferry and floatplane, but you will need a passport for entry.
Meetings & Event Options: Hotels of all sizes and locales offer meeting and event space, and there are numerous opportunities for exotic off-site events and activities.
A Short Hop
Local Color & Cuisine
Luxury Lovers Unite!
A Caribbean escape usually falls into one of two general categories. There's the natural wonders-style trip that involves snorkeling in crystal-clear waters off sugar-sand beaches, lazy kayaking in warm, calm seas or among bioluminescent algae, or a leisurely hike through tropical rainforests and along the rocky cliffs that mark the island shoreline…drinking it in; communing with nature in all its glory and wonder.
And then there's the more indulgent trip that's defined by mornings at the spa, afternoons relaxing on the beach or next to the pool while the waiter brings you another ice cold exotic drink, and capping off each day with an over-the-top meal at a four-star open-air restaurant where the wine flows, the views are spectacular and the cuisine is off the charts. The ultimate nurturing, restorative experience.
Both nice ideas. But what if you didn't have to choose one or the other? What if you could have it all…nature and nurture? Well, you can do just that in the U.S. Virgin Islands – and you don't even need a passport. But you will need a solid plan.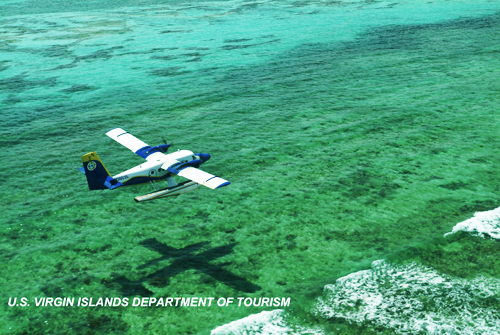 A Short Hop
First of all, there's the issue of getting there. Flying in and out of St. Thomas is probably your best bet, since you can book a number of nonstop flights from most major U.S. hubs, as opposed to St. Croix where your options are far more limited.
The great thing is, once you land at the airport in Charlotte Amalie, it's a short hop to the Seaborne Airlines terminal on Veterans Drive, where you can catch the float plane to St. Croix and save St. Thomas for later in your trip. If you time it right, you can book yourself on one of the three or four 30-minute flights that run to Christiansted each day—they usually depart every few hours between 8am and 5pm—and be on the rugged, isolated beach at the Carambola Resort or enjoying some ocean kayaking at The Buccaneer by late afternoon.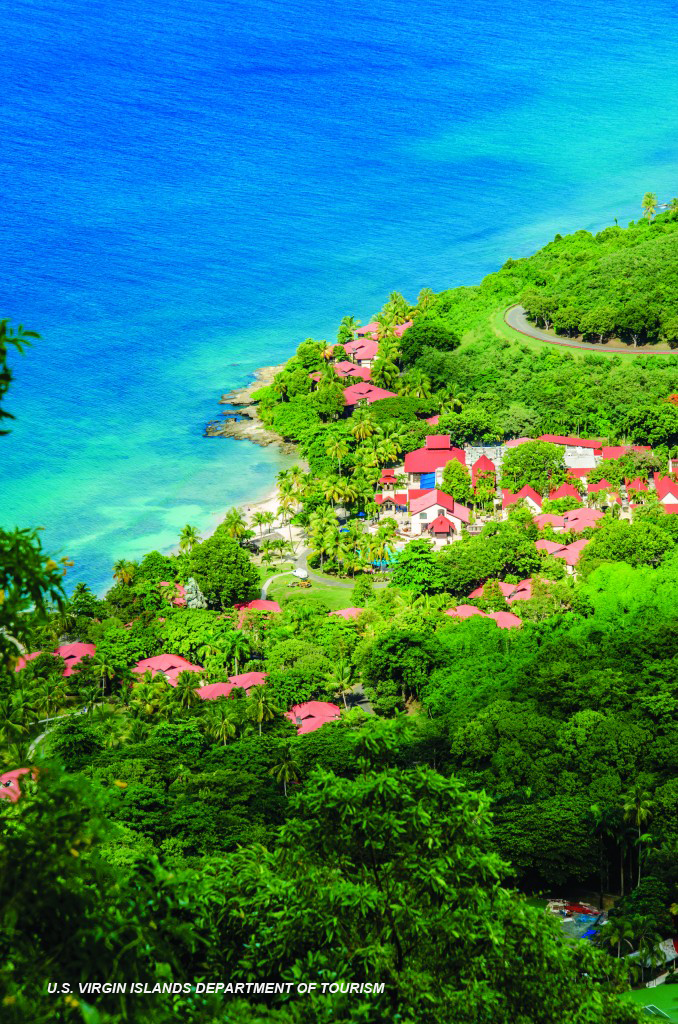 As for activities on St. Croix, you can arrange ahead of time with one of the local outfitters for a bioluminescence tour that evening and enjoy a unique spectacle found in only a few places on earth. Explanation: The algae in certain locations "glow" with a flash of blue-green light whenever their surroundings are disturbed, usually by something as simple as the tide around them being churned up by a kayak paddle or even your hand swirling in the water.
Local Color & Cuisine
The next morning, take your pick between hiking the island (rainforest or beachside) or booking a snorkeling expedition to Buck Island, a pristine National Park located about 30 minutes northeast of Christiansted. If you want to make time to lunch with the locals, try either La Reine Chicken Shack on Route 75 near Centerline road or the Cast Iron Pot off Northside Rd., both serving simple, delicious Crucian fare in copious helpings.
Afternoon can either involve a lazy beach hike, a local tour, or just decompressing on the beach among the tropical flora, working out the kinks from the morning's activities. Spend your second night enjoying the Buccaneer Resort's historic grounds (home to a young Alexander Hamilton before he came to America to attend school and serve in the fledgling U.S. government), and cocktails or dinner in the converted Great House.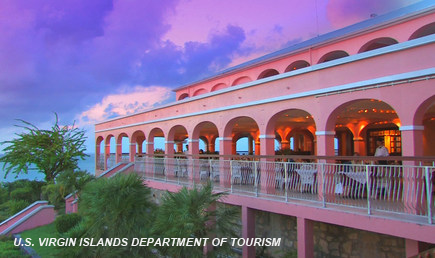 Luxury Lovers Unite!
The next morning it's up early to catch the 9:30am float plane back to St. Thomas to start the "power lounging" portion of your trip. Once you arrive back in Charlotte Amalie you have a number of options as far as accommodations and activities.
Like its sister islands, resort hotels on St. Thomas are almost always on or near the beach, even when they're only minutes from town—like the Frenchman's Reef Marriott, located on an imposing bluff that overlooks the harbor and Charlotte Amalie across the way. Or, if you'd rather get a little further out of town, the Ritz-Carlton—way out on the east end of the island on Great Bay, with the silhouette of St. John looming in the distance—is perhaps the ultimate in Caribbean indulgence. Both properties feature an array of accommodations—single rooms to suites to bungalows—and virtually every amenity you can think of (and some you can't).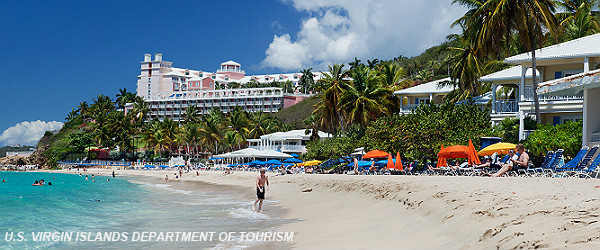 For example: Club Level rooms and suites at the Ritz-Carlton come with a dedicated concierge and an expansive lounge with "continuous culinary offerings throughout the day—breakfast, light snacks, beverages, sweets, canapés and cocktails," as well as a computer workstation and a play area for guests with families. For outdoor lovers, the infinity pool is right on the white sand beach, just steps from the spa offering Seaside Cabana massages and an expansive menu of other treatments and therapies. Top it off with four restaurants and a number of private dining options, sailing, scuba diving, snorkeling and the resort's unique Ambassadors of the Environment program, and you have the ultimate nurturing, restorative experience.
Who says you can't have it all?