USA/Mid-Atlantic: Ringwood, NJ
A Hideaway for Nature's Friends
Overview
The Highlights: Spectacular views of a reservoir, mountains and the Manhattan skyline; an undeveloped forest; old mines; an ecology center.
Other Places Nearby: Wawayanda State Park and Ringwood State Park; New Jersey Botanical Garden; a historic mansion.
Meetings & Event Options: Meetings options are very limited in the immediate area except for Skylands Manor, an impressive 44-room mansion in a lovely setting. The Crowne Plaza Suffern-Mahwah in Suffern, NY, is about 20 miles away from Norvin Green State Forest.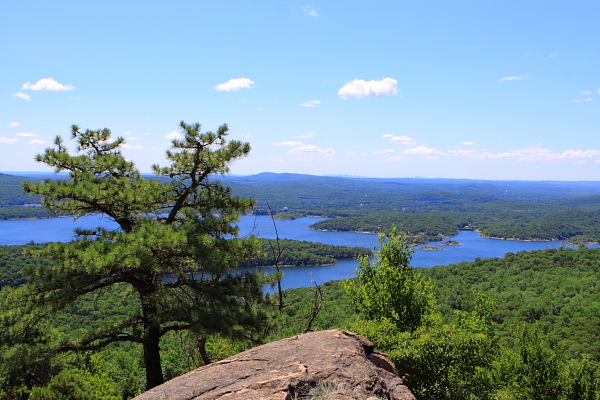 There is hardly any written history about New Jersey's Norvin Green State Forest, and few New York area residents have heard of it. It's not an easy place to find (see Getting Here and A Recommended Walk), it has no state-run facilities, and there's no tourist infrastructure outside its front gate. But after you walk through this undeveloped forest and see its awesome beauty, you'll be quite glad that it may be the New York metropolitan area's best-kept secret.
You stand atop one of the forest's highest points and gape at a 360-degree panorama of the Ramapo Mountains, the Wanaque Reservoir, and New York's Harriman State Park and Sterling Forest, with the majestic Empire State Building, and the rest of the Manhattan skyline in the background. Norvin Green is never crowded, so you can often enjoy its spectacular viewpoints without another person around.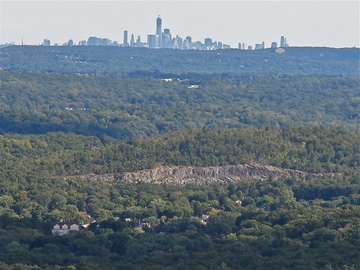 You also pass by a small waterfall, cross a wooden bridge over a rushing brook, and visit two abandoned mines. Imposing Blue Mine is filled with water, just as it was in 1858 after its decline as a working iron-ore mine. Nearly 30 years later, the water was pumped out, and the mine produced 300 tons of iron ore each month. But the water kept refilling and had to be pumped out, and the mine, whose iron-ore vein was 16-feet thick, was finally abandoned in 1905.
About three-quarters of a mile northeast of Blue Mine stands Roomy Mine, which opened in the early 1840s. Miners used a nearly horizontal passageway on the hillside to enter, and you can still walk in about 50 feet.
But there's more to Norvin Green State Forest than the beauty of its land. It's the setting for a fascinating 20th-Century story of European immigrants who came here to enjoy nature and outdoor recreation, but who repeatedly had to fight off suspicious government law enforcement officials attempting to monitor their activities.
Prior to World War I, working-class German and Austrian immigrants in the New York City area formed a group called the Nature Friends. The group was modeled after like-named groups in Europe that loved nature and had become disenchanted with their governments' pro-war policies. In Austria, the group tried to get countrymen out of the beer halls and face-to-face with nature, while members in Germany were known to carry lumber on their backs long distances into the woods to build shelters.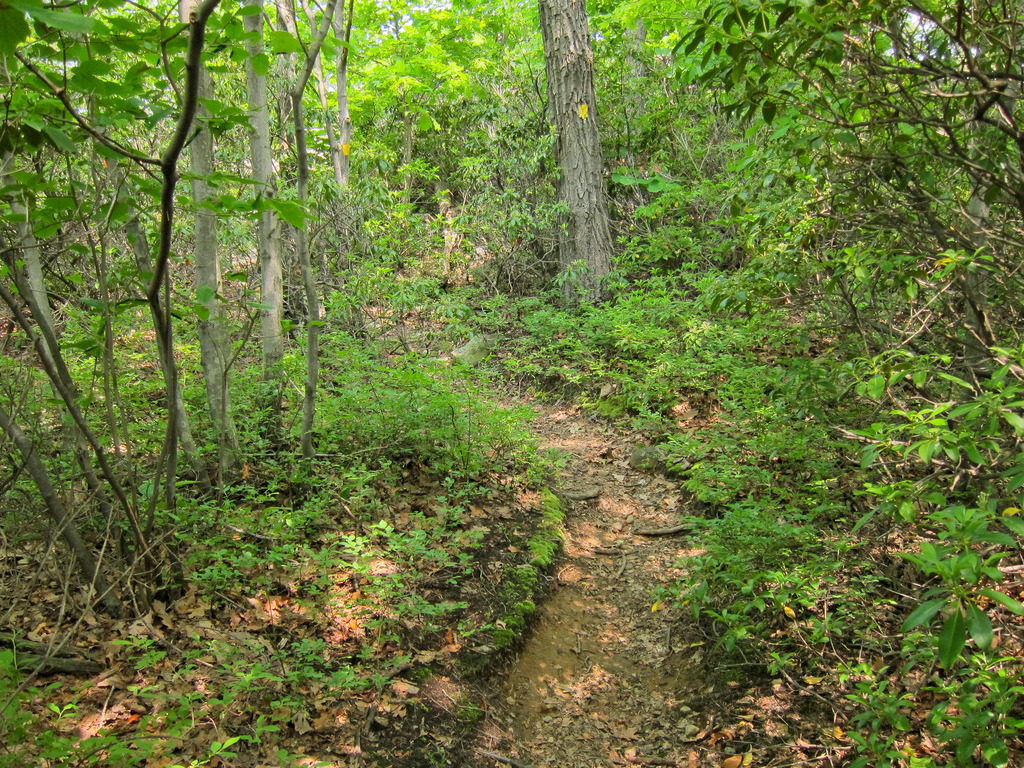 In this country, the Nature Friends had a rocky start. Immigrants from Germany, one of the countries America was at war against, were eyed with suspicion by U.S. government authorities during World War I, and some of the Nature Friends were briefly held in prison in White Plains, NY. Their nature camp in New York's Westchester County was destroyed by a fire of unknown origin. They searched for a new area and, in north-central New Jersey, established 40-acre Camp Midvale, now the site of where you begin this walking tour.
Group members came on weekends to hike, swim, and play a German game called fist ball, which resembled volleyball but used a string instead of a net. They maintained the nearby trails, even walking at night to see the stars from High Point, the fabulous viewpoint you visit on your walking tour. From High Point, they looked down at the Ramapo Mountains, a name that derived from an Indian word meaning "place of the slanting rock."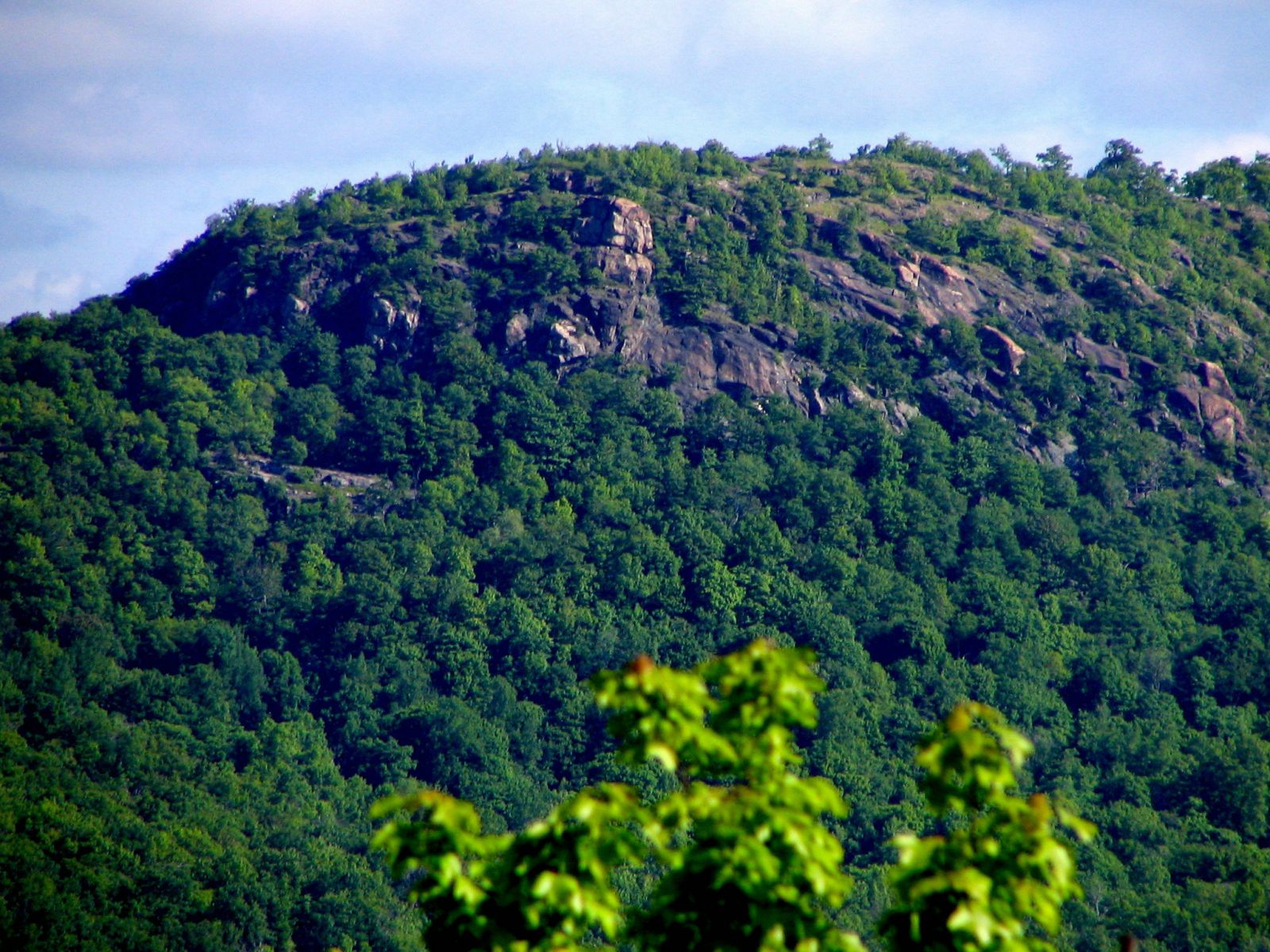 The Nature Friends bought more land, built a clubhouse, a pool, and 60 bungalows. Everyone pitched in to help their friends settle in, and they welcomed people of any race to join their group. Exhibits were set up on a shelf for children: an old bird's nest and bones of a wolf and other animals. The kids could also feed sheep, rabbits, a goat, ducklings, and turtles.
Besides enjoying the outdoors, many of the Nature Friends enjoyed debating world politics, including radical politics. They believed that the older generation in Europe had abused the land and led them to war, and that it was time to build a new society based on the best of socialist ideology. They were anti-fascist, and some were avowed communists.
The good times turned rough, however, when the Cold War began soon after World War II. Senator Joseph McCarthy went on a rampage, fingering suspected communists everywhere in the country. Camp Midvale became a target and, in 1947, was listed on the U.S. Attorney General's subversive list. The Ku Klux Klan was suspected of burning a cross there, and FBI agents constantly had their eyes on the camp. In September 1951, the FBI's Newark office began a round-the-clock surveillance while on the lookout for eight communist leaders.
They had no luck at the camp, whose members continued to maintain a good relationship with townspeople nearby. A local newspaper editor visited the camp and saw 12 old men playing cards. "Look what's going to overthrow the government," joked one of the Nature Friends.
But it wasn't't a jovial time for many. FBI Director J. Edgar Hoover declared that Camp Midvale was a center for indoctrinating youth in communist front tactics, and agents compiled 12,000 pages of documents about the Nature Friends. FBI agents waited at the bottom of the hill outside the camp and jotted down license plate numbers, and they interviewed people on the street outside their homes. Decent people became frightened, wondering what might happen to them and their jobs.
Various actors, musicians, and others in the creative arts, including several who were on the government's subversive list, joined hands with the Nature Friends. Actor Herschel Bernardi was on the cultural staff one summer and organized various skits. Another actor, John Randolph, and his wife Sarah Cunningham, staged excerpts from Chekhov plays. Ruby Dee and Ossie Davis performed, and folk singer Pete Seeger played a concert in front of an audience of 1,200. John Wilson, an artist in residence, was commissioned years later to create the bust of Martin Luther King in the U.S. Capitol Building.
Trying to shake the government's subversive tag, the Nature Friends changed their name to the Metropolitan Recreational Association. Some of the older members began dropping out of the group, and the group became beset with financial problems. They continued to uphold their ideals, participating in the struggle for civil rights for African Americans.
In October 1966, a suspicious fire burned the Nature Friends' old clubhouse to the ground. No one was charged. Later that month, police arrested 19 people with weapons who reportedly were plotting a raid on Camp Midvale.
Without their clubhouse, it was never the same for members. Visiting one another in their homes couldn't't replace the camaraderie of the clubhouse. Seventy families held a meeting and decided to sell the land for $1 in return for guarantees that the land wouldn't't be commercially used and that the 70 families would have access to the land for the rest of their lives. The families rejected a $500,000 offer from a developer.
Camp Midvale was on the site where you begin this walking tour. As you walk, imagine the many memories shared by the Nature Friends. "We had an estate," recalled one of the Friends. "We felt like millionaires during the Depression."