USA/New England: Newtown, CT
A Literary Landscape
Overview
The Highlights: A pastoral New England town that many notable people have called home, dramatic vistas, historic houses and buildings, $3 movies, a world-class inn, excellent dining, a craft beer oasis.
Other Places Nearby: Bethel's quaint downtown, apple orchards, farmers' markets, a bald eagle sanctuary, lakes, scenic state parks.
Meetings & Event Options: Edmond Town Hall has several meeting rooms, and a historic 19th-Century meeting house maintained by the Heritage Preservation Trust can be booked. Other meetings spaces are available in neighboring Danbury and Monroe.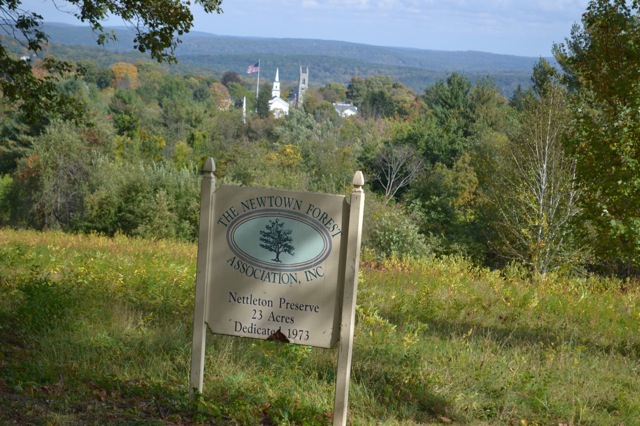 The accomplishments of Newtown's residents are as vast as the land area the pastoral southwestern Connecticut town occupies.
As you walk on Newtown's trails and sidewalks (see Outdoors), remember that Revolutionary War heroes, governors, sculptors, movie stars, inventors, an Olympic gold medalist and a Heisman Trophy winner are among many notables who have lived here.
Two famous Newtown authors, though, may be the most known throughout the world by people of all ages and interests.
Suzanne Collins, author of the best-selling book The Hunger Games, lives in Newtown's Sandy Hook neighborhood. Joanna Cole, author of The Magic School Bus series, has called Newtown home, and series illustrator, Bruce Degen, resides in the town's Hattertown district, once a flourishing hat manufacturing center and now an attractive residential area.
Other writers who lived or now live in Newtown include: James Thurber, cartoonist and author at The New Yorker; Steven Kellogg, an author and illustrator of children's books; William Swanberg, who won a Pulitzer Prize for a biography of magazine magnate Henry Luce, and sports essayist Roger Angell.
Collins' science fiction adventure novel The Hunger Games spent more than 300 consecutive weeks on The New York Times bestseller list after it was published in September 2008 and has been translated into 51 languages. In 2012, global entertainment company Lionsgate released a film adaptation, and it generated box-office sales of nearly $700 million, the 14th-highest-grossing North American movie of all time.
According to Scholastic, Collins got the idea for The Hunger Games while surfing TV channels in bed one night. She noticed people competing for money or a beau and, on another channel, footage from the Iraq war. She fused the two ideas together, and a multimedia empire was born.
The Hunger Games became a trilogy with subsequent novels Catching Fire and Mockingjay. Catching Fire also became a top-grossing movie, and Mockingjay has been developed into two films. Worldwide, Collins' books have sold more than 85 million copies.
Magic School Bus Success Story
The Magic School Bus, of course, is much lighter fare for a much younger audience, but the series has also become a multimedia success story. More than 58 million books have been sold in a long Scholastic series. Netflix announced that it will launch in 2016 a new version of The Magic School Bus animated TV series, an Emmy Award winner that debuted on PBS in 1994.
The books and the series taught children about science and nature through the kooky antics of adventurous school teacher Ms. Frizzle and her students.
Degen, the illustrator, serves on the Hattertown Historic District Commission, which aims to protect and preserve the unique Newtown area. In the early 1800s, the entire Hattertown village was employed in the hat trade, and present-day homes in the area retain their 19th-Century character.
A walk through the Hattertown area, starting at the small, triangular-shaped green in the center of the district, is highly recommended. Four roads intersect at the green: Hattertown Road, Hi Barlow Road, Aunt Park Lane and Castle Meadow Road.
According to the online publication, the Newtown Patch, Degen said he "loves so much about Newtown he couldn't hope to make a fair list."
The illustrator cited "the wonderful people" who live in Newtown, "the volunteerism and the many people who contribute to make this a place with a real sense of caring."
Degen also said he loves "the sense of history" in Newtown, the preservation of its "beautiful old buildings," its "beautiful main street," its "terrific library," and its forest preserves.
Though Newtown's population is small–about 28,000–the town is the fifth largest in area in Connecticut, and forest land abounds. Newtown spreads across 38,644 acres, or 60.4 square miles, and has three exits on the intestate highway, I-84, that passes through the town.
Protected Forest Land
Many parcels of wooded land are protected from development by the Newtown Forest Association, the state's oldest private land trust organization. It is a non-profit group and the largest private landowner in Newtown.
The association's 86-acre Holcombe Hill Wildlife Preserve on Great Hill Road is a perfect place for Short Escapes enthusiasts. With an elevation of 830 feet, Holcombe Hill is Newtown's highest point and provides incredible views of three counties.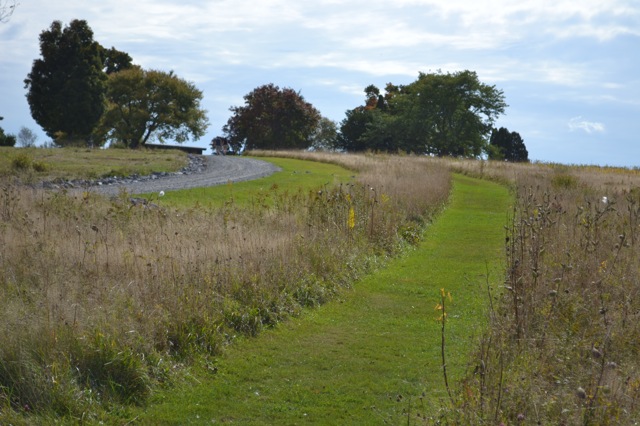 The land, including its 30 acres of hay fields, was donated to the Newtown Forest Association in 1997 by the estate of Josephine Holcombe. She and her husband, who was Newtown's first selectman, or mayor, in the 1940s, were farmers and raised livestock.
It was 36 farmers, in fact, who in 1708 began Newtown's post-Native American history by petitioning the colony of Connecticut's General Assembly for permission to settle. Second- and third-generation immigrants from Britain, most of the farmers lived in Stratford and Milford and were seeking less populated lands and larger farms.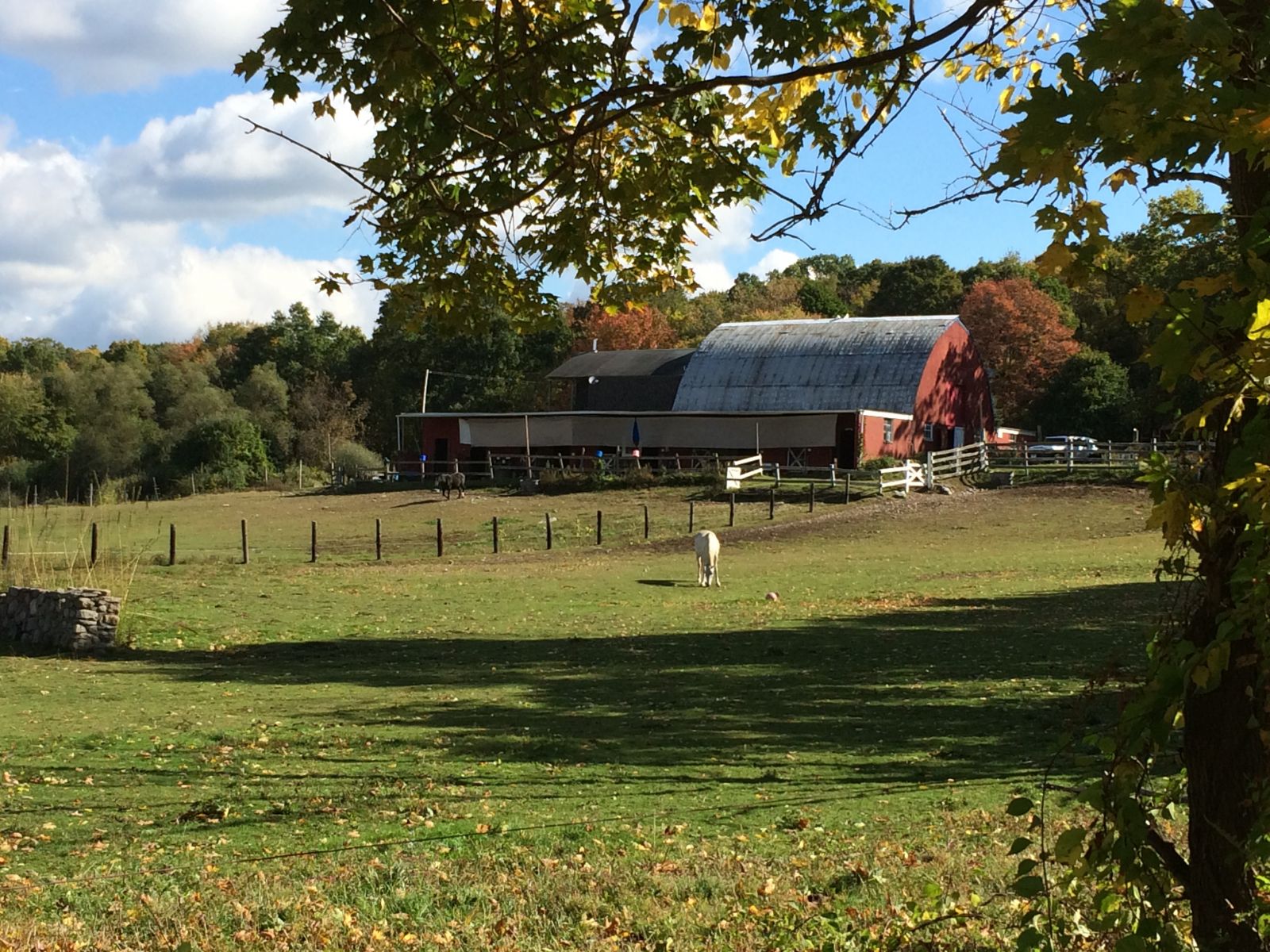 Most built a saltbox home or a 1 ½-story cottage near Newtown's main street, according to the Newtown Historical Society. They constructed barns and small buildings behind their homes and planted small gardens for vegetables and herbs.
One of the saltbox homes, the Matthew Curtiss Jr. House, can be seen today at 44 Main Street. It is now the headquarters of the historical society and is open for tours with no admission fee one Sunday per month March-June and September-December.
The house was built in the mid-18th Century and bought in 1781 by Curtiss, a lieutenant in Connecticut's Revolutionary War militia. Today, the house contains furnishings from that era and others items that explain the history of Newtown.
The land around the early farmers' homes wasn't large enough for their endeavors, and they obtained large parcels of land for their crops in other Newtown areas. Several farmers later moved from the main street area to their outlying lands, and small communities developed within the town.
Sandy Hook Forms
The first community to form was Sandy Hook, where the Pootatuck River flowed and provided water power for saw mills and grist mills that were built. Other communities with colorful names developed, and many, such as Hattertown, Dodgingtown, Hawleyville and Head O'Meadow, still exist today.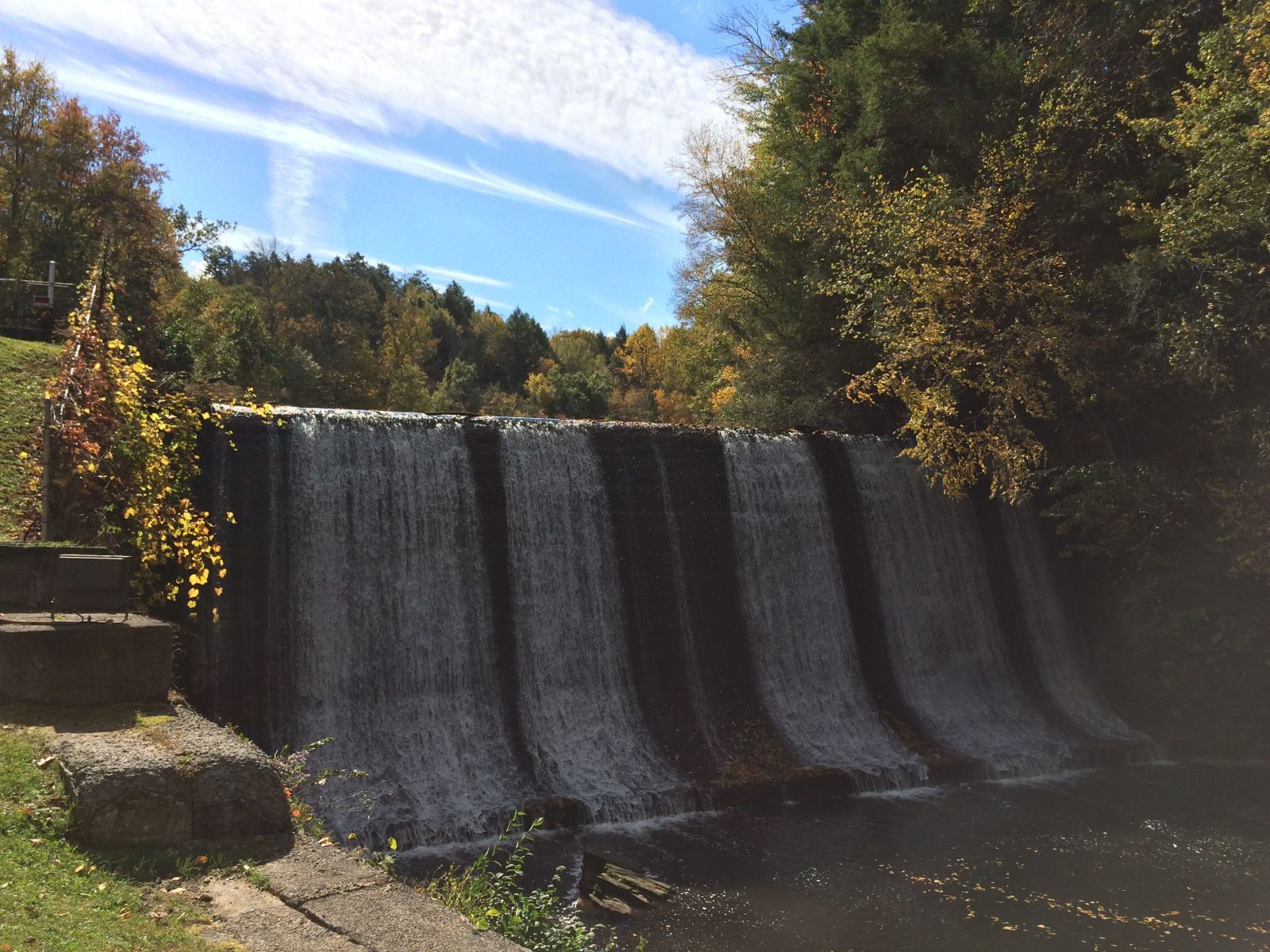 During the Revolutionary War, Newtown was a Tory town largely occupied by residents loyal to the British Crown. In 1781, however, French soldiers, led by renowned General Jean-Baptiste Donatien de Vimeur, Comte de Rochambeau, set up camp in Newtown. He had arrived with 5,500 mean a year earlier in Newport, Rhode Island, after being chosen by King Louis XVI to command an army to assist General George Washington in the fight for independence against the British. Rochambeau marched his soldiers out of Newtown to meet with Washington's army in Mount Kisco, NY. The combined troops later marched to Yorktown, VA, and won a major battle that was the war's final major conflict and opened the door to America's independence.
Newtown remained primarily a farming community after the Revolutionary War. With the dawn of the Industrial Revolution in the 19th Century, industries developed, including comb and button manufacturers and small hat shops. Before large hat factories in Bethel and Danbury put nearby small hat shops out of business, Hattertown was a thriving area for hat makers. The Hattertown Historic District is now on the U.S. Department of the Interior's National Register of Historic Places and a perfect place off the beaten path to explore.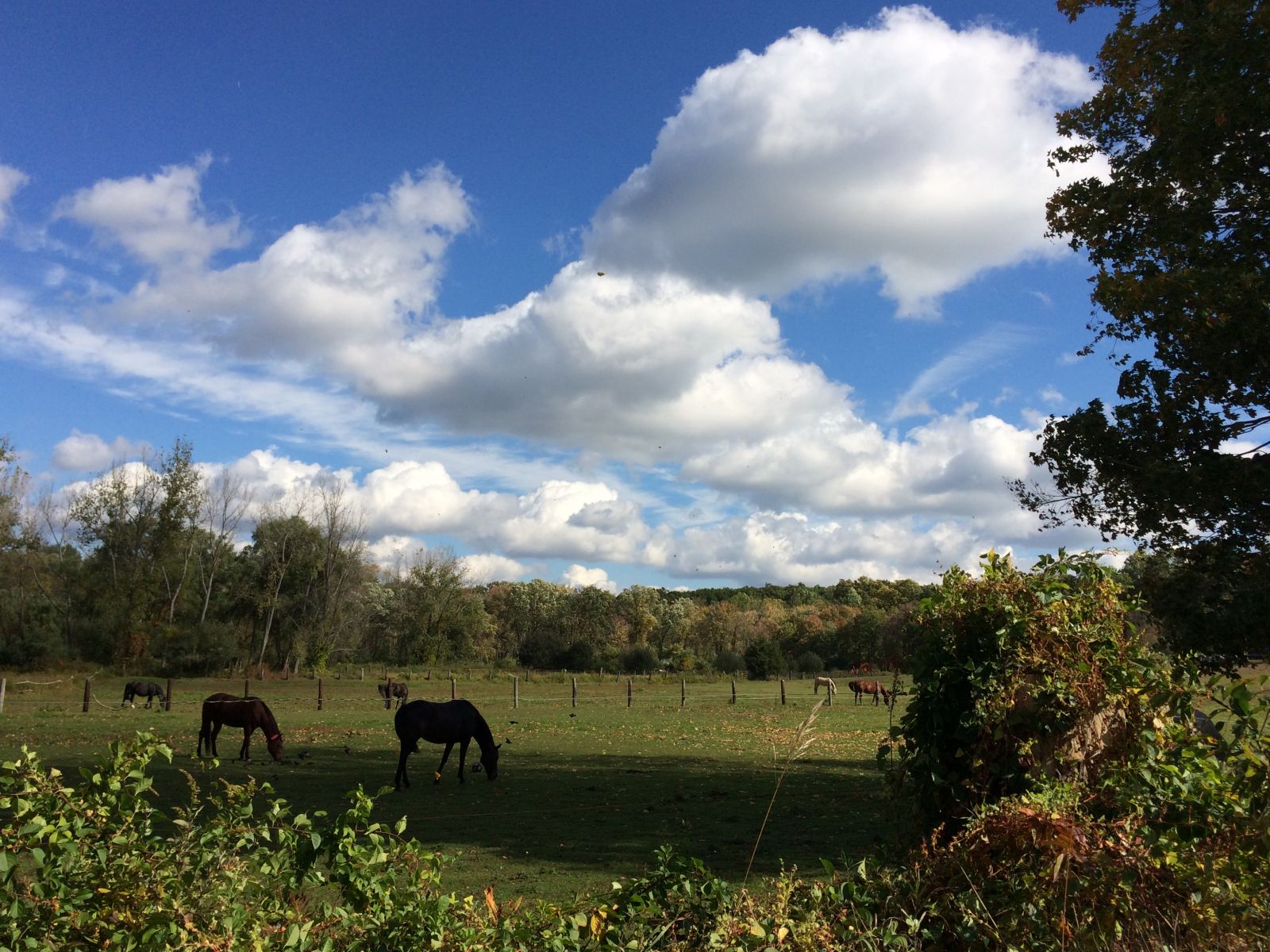 It's located in southwestern Newtown and is best accessed by following Hattertown Road, which connects with Route 302 or Key Rock Road. Hattertown road and three others meet at the Hattertown District's centerpiece, a small, triangular 19th-Century village green. Houses, barns and a former blacksmith shop date to that time, and Lewis Brook, a small tributary of the Pootatuck River, flows through the district, creating small ponds on several properties.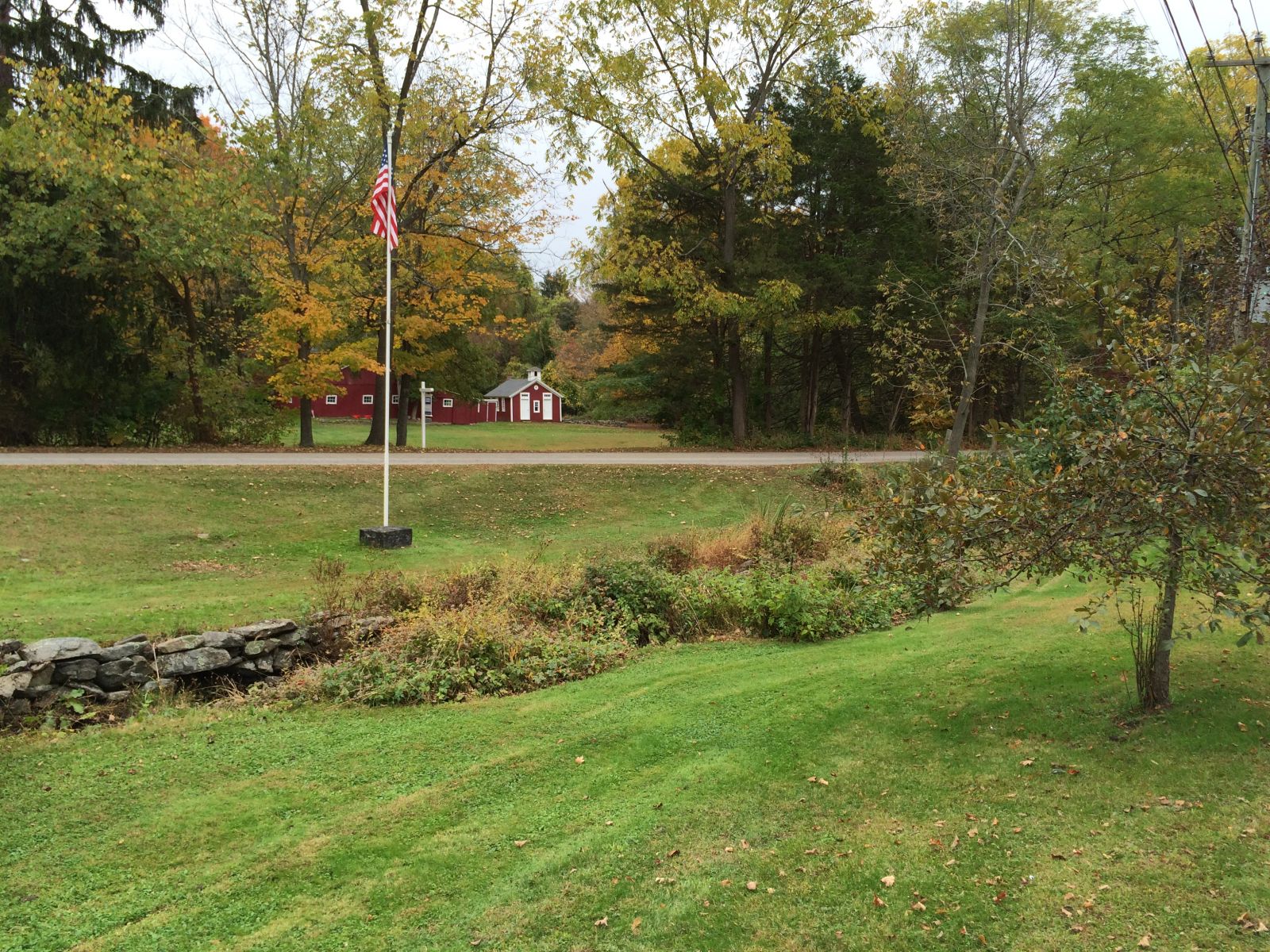 The historic houses were built with post-and-beam construction and are largely sheathed with clapboard. Most have retained a ridge-to-street orientation, a central chimney and a two-story, rectangular five-bay form of a standard late colonial house.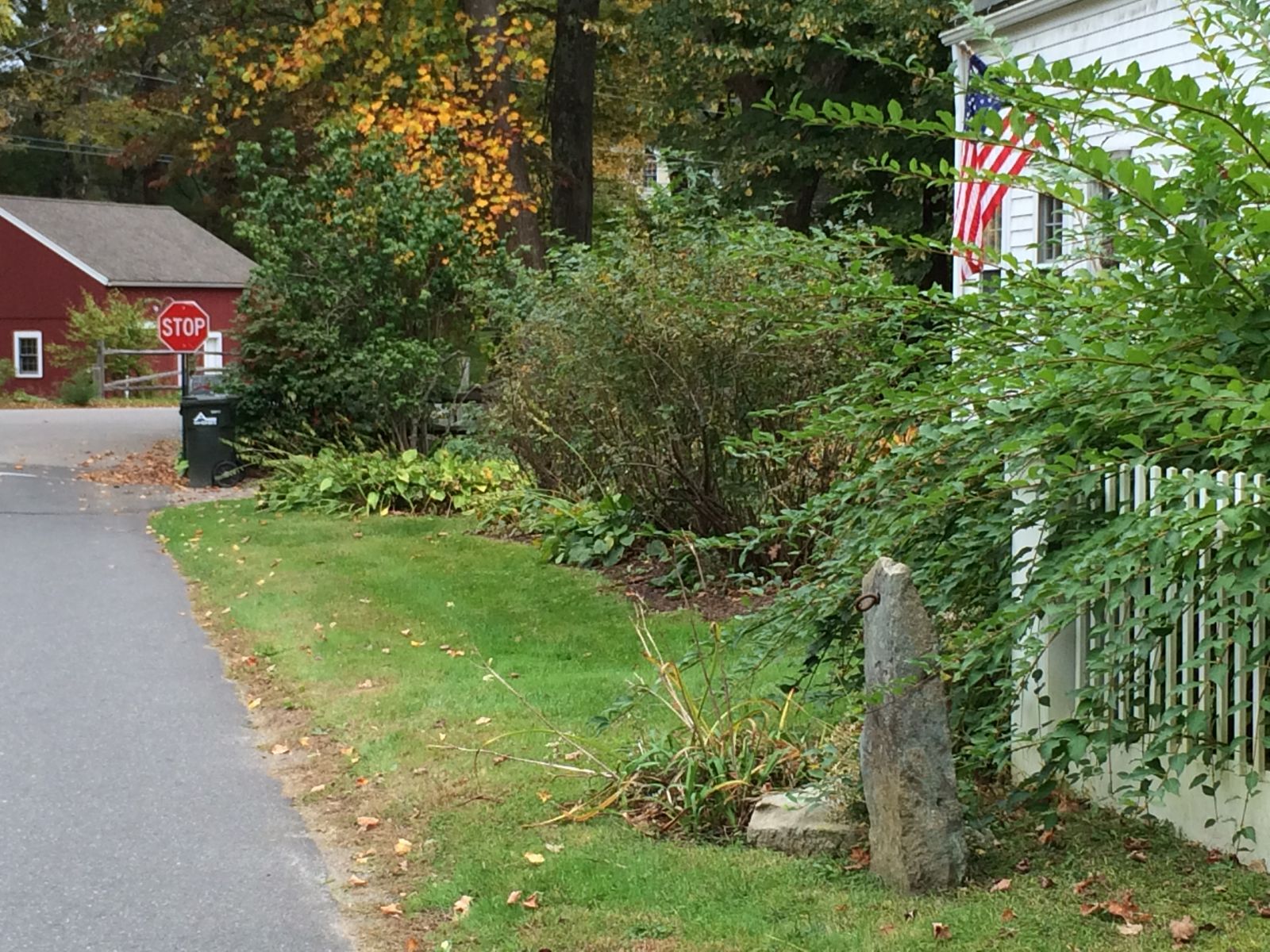 Following the Civil War, Newtown developed into a resort town with several hotels on Main Street frequented mostly by city dwellers looking to escape to the country. Its popularity as a resort town waned by the end of World War I. One large hotel once stood on the property now occupied by the town library.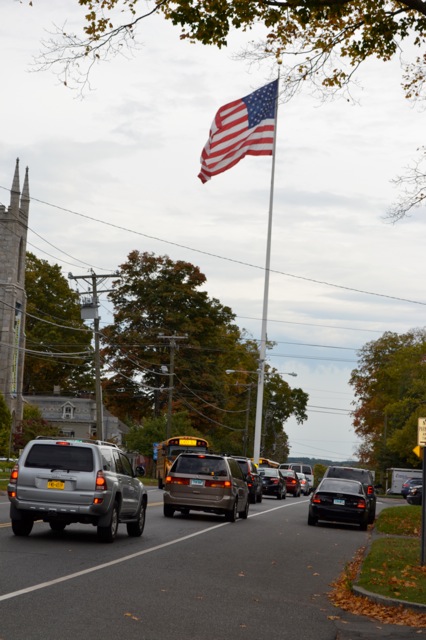 One landmark that has endured for more than 130 years is a huge flagpole in the middle of the road on Main Street at the intersection of Routes 25 and 6. The 100-foot flagpole has no traffic signals on it and backs up traffic and confuses drivers every day. The state Department of Transportation has attempted to remove it, but Newtown has refused to budge, unwilling to eliminate a symbol of town pride and history.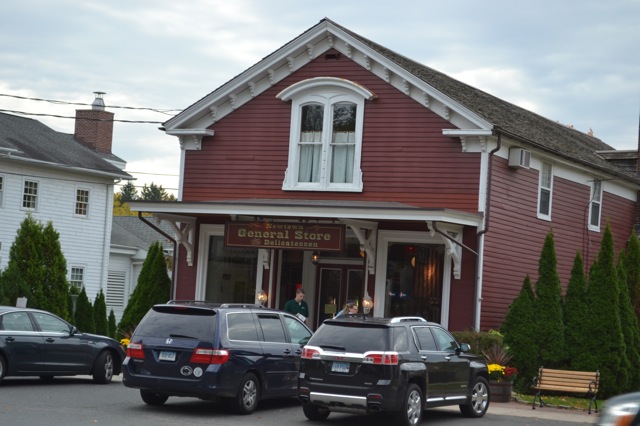 Visitors to Newtown should stop by the flagpole, see the classic 1812 New England meeting house next to it and then take the time to walk in away in both directions on Main Street, passing by several historic homes, including the Matthew Curtis Jr. House. Just northwest of the flagpole is the quaint Newtown General Store and historic Edmond Town Hall. The hall is a favorite gathering place for locals, offering $2 movies nearly every day unless special events are scheduled. Go inside Edmond Town Hall, which was dedicated in 1930 and is on the National Register of Historic Places, to feel its old charm. Don't miss the creative murals on the stairwell walls or the names of the famous Newtown residents painted on a second-floor wall.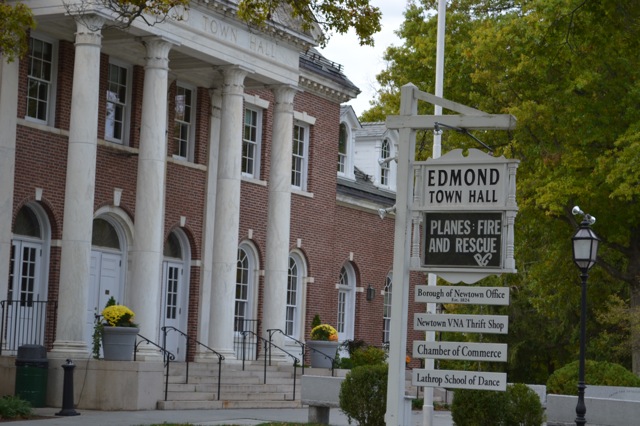 Heading southeast on Main Street from the flagpole is the elegant B&B, the Dana-Holcombe House, the town library and the Inn at Newtown, which has the charm of a New England Inn and is primarily a restaurant. Further down the street is a huge tract of public land, the Ram Pasture, which dates to the early 18th Century. It was an area once used to graze sheep and is now a perfect place to picnic, throw a Frisbee or get a suntan.
Famous Newtown Residents
Many or all of these sites were, or are, undoubtedly known to Newtown's most well-known residents. If you are wondering which notable people besides Newtown's renowned authors and writers have called Newtown home, and you don't have the time to stop by Edmond Town Hall to find out, we will reveal some of them below.
Olympic gold medalist Bruce Jenner and soccer star Marcus Tracey, who won the Heisman Trophy in 2008, graduated from Newtown High School, and University of Connecticut and National Basketball Association star Cliff Robinson once had a home on Poverty Hollow Road.
Heavyweight boxing champion Floyd Patterson lived and trained in Newtown in 1960 under the tutelage of former champion Joe Louis before his championship bout with Ingemar Johansson. Patterson had lost his title to Johansson a year earlier in a title bout at Yankee Stadium. After training in Newtown, he knocked out Johansson in a rematch at New York's Polo Grounds, becoming the first heavyweight champion to regain his title.
Connecticut governors who lived in Newtown were Isaac Toucey, Henry Dutton and Luzon Morris. Other Newtown residents have included film stars Ruth Gordon and Dennis Leary; film director Elia Kazan; singer Kate Smith; comedian Wally Cox; Charles Goodyear, who invented the rubber vulcanization process, and sculptors Rhys Caparn and John Angel.
More people worldwide, though, may be familiar with the work of a lesser-known name, former resident James Brunot. Brunot named the game of Scrabble after playing it for years with the inventor Alfred Butts. Brunot and his wife, Helen, trademarked Scrabble in 1948 and manufactured it from their home in the Dodgingtown section of Newtown.
When sales began to rise, they rented an abandoned schoolhouse. There, they stamped letters one at a time on the Scrabble tiles, and, with the assistance of friends, manufactured a dozen games per hour.
It was not an immediate rags-to-riches story, however. The business struggled for years until a Macy's executive encountered the game while on vacation. Macy's ordered some Scrabble games, and sales began to skyrocket. The Brunots could not keep up with demand and made a deal with a Long Island company, Selchow & Righter, to manufacture, market and distribute the popular game.
Decades later, sales are still robust. According to The Strong, which inducted Scrabble into its National Museum of Play in Rochester, NY, in 2004, 2 million Scrabble games are sold annually in the USA, and millions more are sold internationally.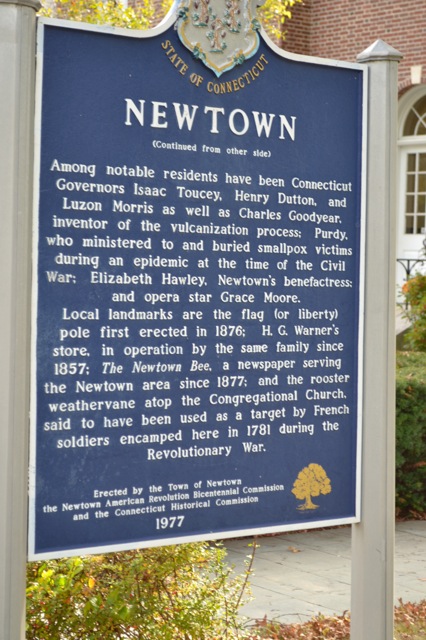 While Scrabble is known worldwide, the name of another notable former Newtown resident has remained in obscurity for centuries. A sign outside Edmond Town Hall commemorates him, but his full name is unknown.
He is referred to simply as Purdy, a freed slave who cared for locals who were sick and dying from a smallpox plague that struck Newtown during the 1850s. Purdy, who purportedly operated a station on the underground railway and smuggled runaway slaves into Canada, picked up coffins dropped at Mt. Nebo Road and dug the graves of those killed by the epidemic. He, too, died of smallpox.
Across from Mt. Nebo Road, which intersects with Hattertown Road, a street, Purdy Station Road, is named in his honor.