USA/New England: Old Saybrook, CT
Katharine Hepburn's Paradise
Overview
The Highlights: The town Katharine Hepburn loved, beautiful beaches, historic lighthouses, great restaurants, a world-class inn.
Other Places Nearby: Connecticut's largest public beach park, Hammonasset; steam train rides; riverboat cruises.
Meetings & Event Options: The Saybrook Point Inn & Spa with numerous rooms for meetings, events and weddings, including a 3,132-square-foot ballroom that can seat 260 people in a theater-style arrangement.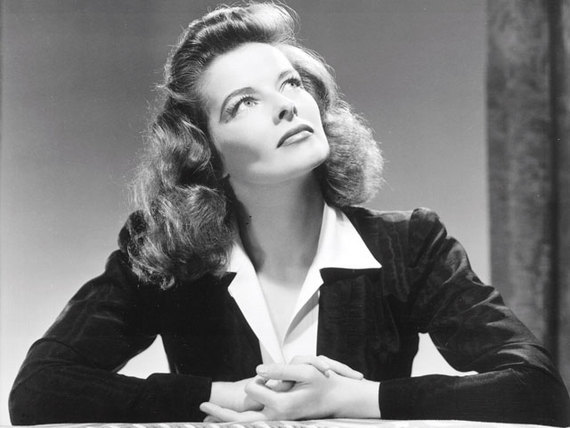 Katharine Hepburn treasured her summer home on the edge of the vast waters of the Long Island Sound near the mouth of the Connecticut River in the Old Saybrook borough of Fenwick. It was a place the celebrated actress escaped to on weekends, a place to unwind, get out on the water or play tennis far removed from the hectic pace of life in Manhattan.
"Fenwick is and always has been my other paradise," she said. Hepburn could look out at two historic lighthouses, Saybrook Breakwater and Lynde Point. She painted both. Saybrook Breakwater, which first began shining its fixed white light in 1886, is the symbol of Old Saybrook and is featured on Connecticut's special "Preserve The Sound" License plates. Lynde Point, built in 1838, stands just north along the beach from the former Hepburn estate.
On this Short Escape, you can walk or drive past the estate, the golf course and tennis courts Hepburn played on and the two 19th-Century lighthouses. The estate is a private residence no longer owned by the Hepburn family, so do not trespass.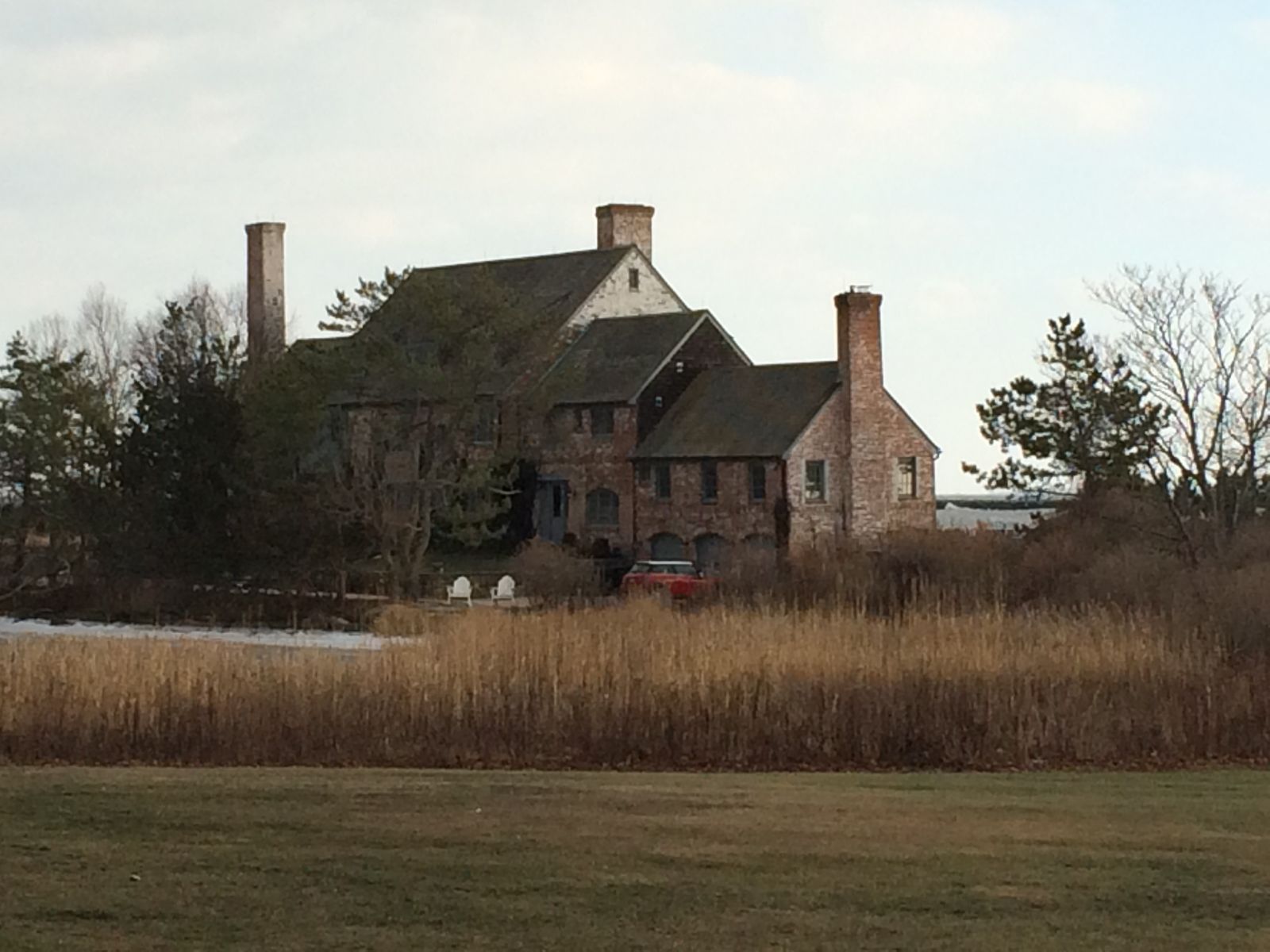 Katharine Hepburn was born in Hartford in 1907, one of six children of surgeon Thomas Hepburn and social activist Katharine Houghton. Six years later, the family moved in to its summer cottage in Fenwick, which is separated from the center of Old Saybrook by a causeway that passes over a cove.
Katharine was a natural athlete who rode a bicycle at Fenwick, swam, sailed and canoed. She took advantage of the home's proximity to the Long Island Sound and the Connecticut River, sailing with her brother-in-law Ellsworth Grant and her sister Marion in their ketch dubbed Lady Fenwick. Katharine also paddled her canoe, Gertrude, through the tidal marshes and in the cove near her home. (Today, you can see many osprey nests in the tidal marshes.) She loved to play tennis and golf; the courts adjacent to her house and the nearby golf course are still in use. Hepburn also was an avid gardener and even climbed trees to prune them.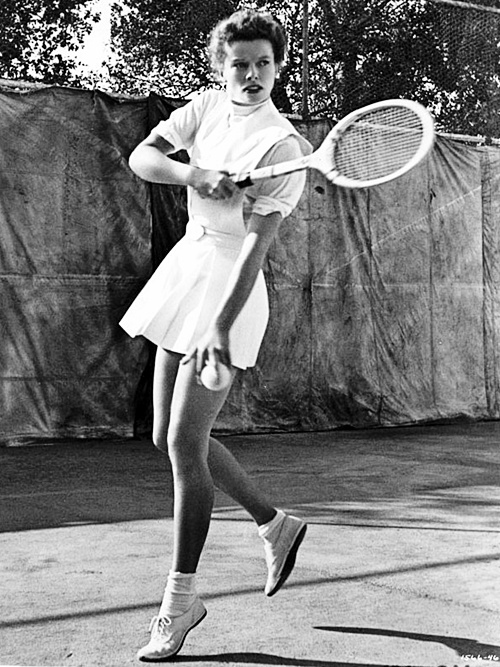 She became enamored with acting during her years in Pennsylvania at Bryn Mawr College where she received a degree in history in 1928. Hepburn then acted in on and off Broadway productions for several years and made her first theatrical performance in Connecticut in 1931 at the Ivorytown Playhouse. A talent scout noticed her talent in a play and suggested she audition for a part in the 1932 film A Bill of Divorcement starring John Barrymore. She got the role, and the movie was a success at the box office. A big contract for future films followed, and a year later she won her first of four Academy Awards for Best Actress in Morning Glory.
Despite Hepburn's success, the summer home in Fenwick remained a casual, comfortable residence full of books, her paintings and items collected at film locations. She loved to read at the home, which was also known as the site of hotly contested Parcheesi games.
Director George Stevens and Howard Hughes visited the home when they dated Hepburn in the 1930s. Stevens directed Hepburn in two films, Alice Adams and Quality Street, which were not big hits. Hughes flew in on his private plane but was not a family favorite. He and Hepburn had mutual interests in golf and aviation, but his social awkwardness didn't sit well with her family.
In 1938, disaster struck the Hepburn family. Katharine, her mother, her brother Dick and a friend swam and played golf until strong winds made them retreat to the family home. They had no warning that the Great Hurricane was about to strike. Hurricane waters rushed ashore, and they had to scramble out of the house through a window.
"Looking back," according to Katharine's words posted at the Katharine Hepburn Cultural Arts Center, "we saw the house slowly turn around, sail off to the northeast...It just sailed away as easy as pie...and soon there was nothing left on the spot where the house had stood for over 60 years...Our house, all our possessions...just gone."
The cultural arts center, located in the heart of Old Saybrook, displays photos of the disaster, including one of Hepburn sitting in the rubble next to her bathtub on her home's toilet bowl, two items not washed away.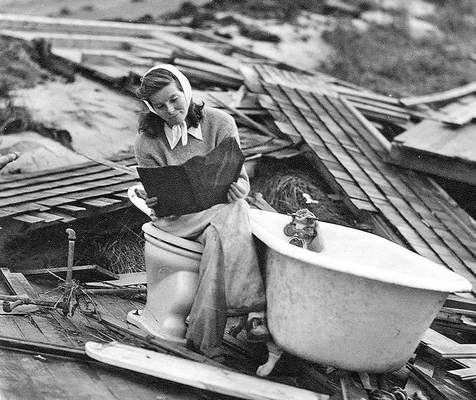 A year later, she began building a new summer home on the site, and it stands in a modified form today. She lived there for many years with her brother. Their large kitchen contained two sinks and two refrigerators, so they could live independently.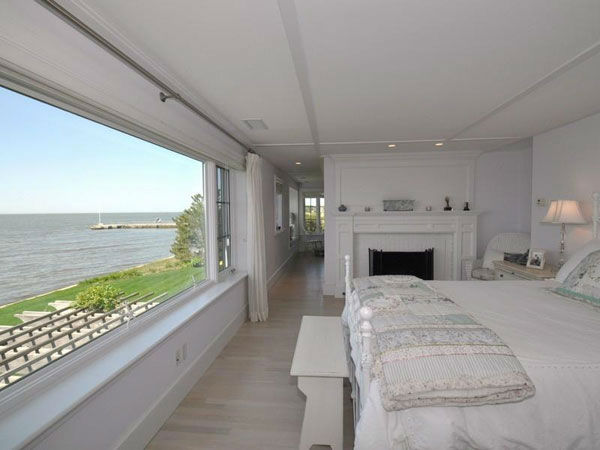 In 1942, Hepburn was cast in her first movie with Spencer Tracy, Woman of the Year. The movie was scripted for her and based on the life of newspaper columnist Dorothy Thompson. Hepburn's role was Tess Harding, a newspaper journalist covering international affairs, and Tracy played Sam Craig, the newspaper's sports writer.
During filming, the two fell in love, and the relationship continued for decades until Tracy's death in 1967. They made nine films together but never married because Tracy, a Roman Catholic, believed divorce would violate his faith's beliefs. Tracy visited Hepburn's Fenwick home only once, but her family was not fond of him because he was married. Tracy concealed the relationship with Hepburn from his wife, Louise, for many years but lived with Hepburn in California near the end of his life.
The duo's final film together was 1967's Guess Who's Coming to Dinner, which also starred Sidney Poitier and Hepburn's niece, Katharine Houghton. In June 1967, 17 days after completing his final scene, Tracey died of a heart attack at his Beverly Hills apartment where he was living with Hepburn. The movie was released at the end of the year, and Hepburn won her second Oscar for Best Actress. She played the role of an art gallery owner married to a newspaper publisher played by Tracy. The movie raised a controversial subject of the time: interracial marriage.
Hepburn immersed herself in her profession to get beyond the grief of Tracy's death. She won two more Oscars for Best Actress in 1969's The Lion in Winter and 1982's On Golden Pond. Her four Academy Awards for Best Actress are the most by any performer. In 1999, the American Film Institute designated her as Hollywood's greatest actress.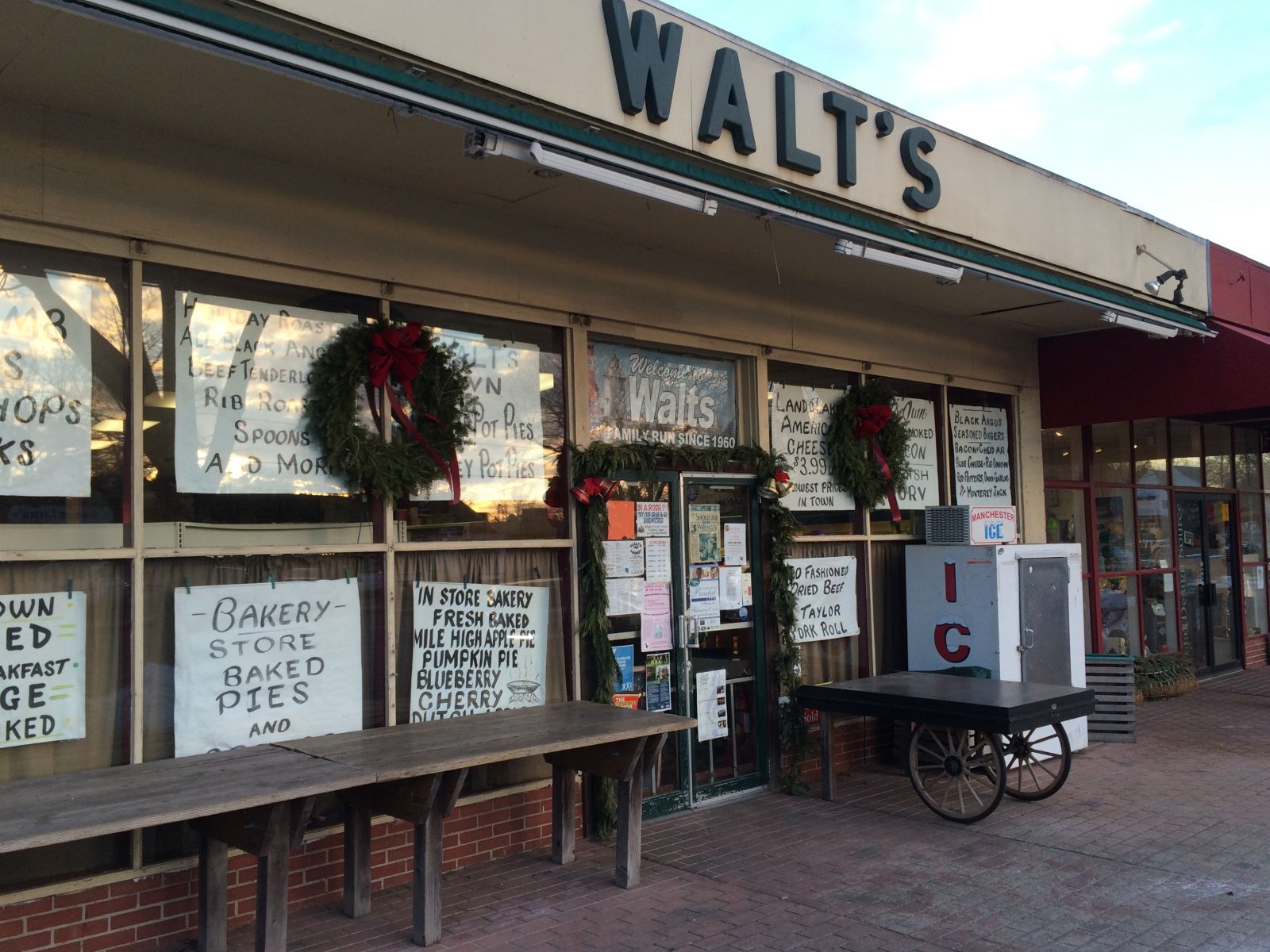 When at her home in Old Saybrook, she continued to regularly play tennis and golf. In 1976, she joined local residents at a performance of The Woodwind Symphony at a waterfront bicentennial celebration. She wasn't seen very often on Old Saybrook streets, according to the Katharine Hepburn Cultural Arts Center, but sightings were "always remarkable." One memorable day, she walked out of Walt's, the town's grocery store and meat shop, holding a broom. The striking photo of her leaving the store with the broom is today on the wall of the arts center. Her family liked to visit Walt's for the personal service and the store's respect for their privacy as well as the selection of meats, the arts center says. On your visit to Old Saybrook, don't miss Walt's, or its home-baked pies that locals swear by, and you will be transported to a bygone era in Katherine Hepburn's footsteps.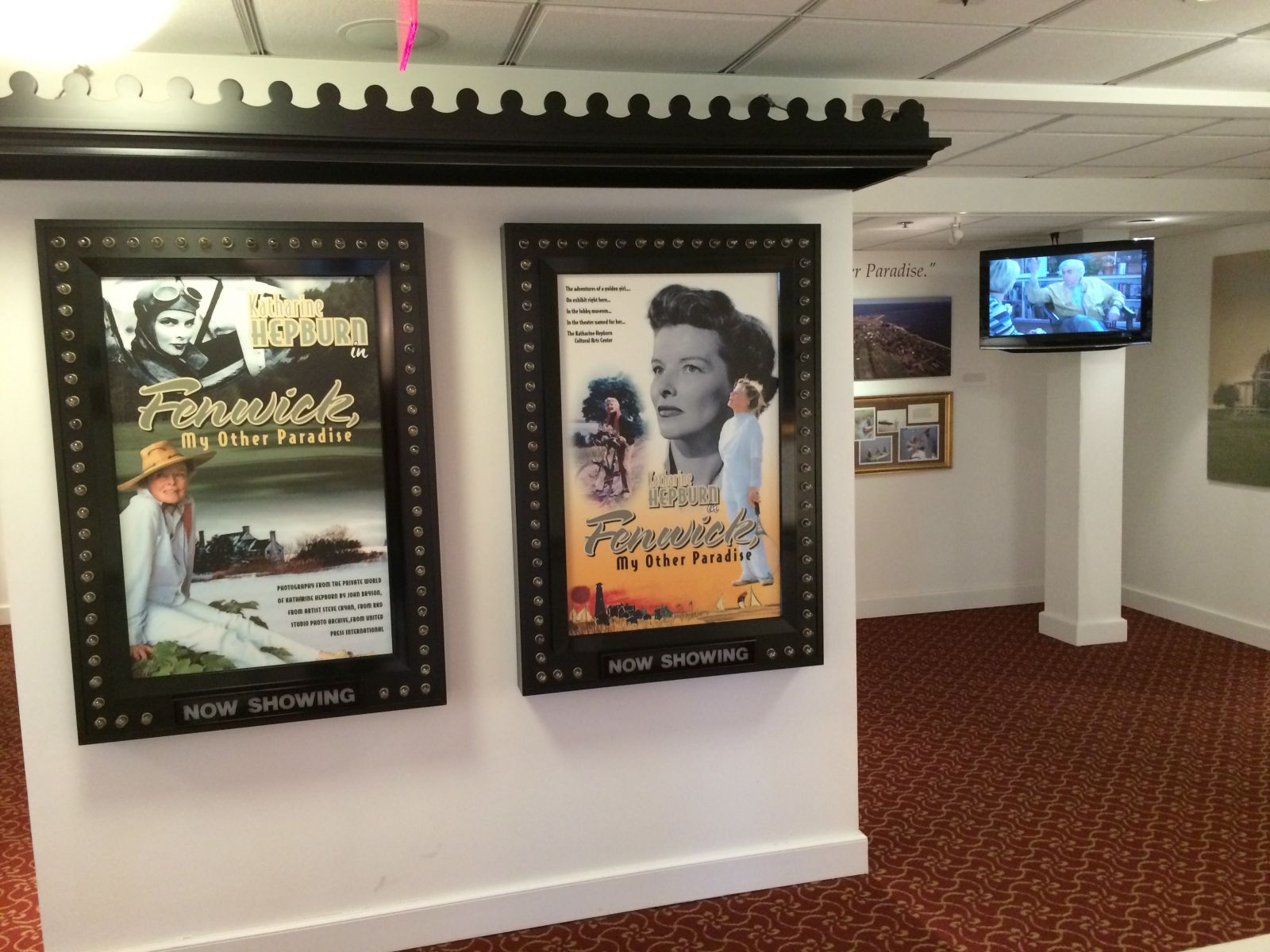 The town's cultural arts center named in honor of Hepburn is also a not-to-be-missed spot. It has a small, very informative museum that's free of charge and full of Hepburn history, photos and movie posters. It also houses an intimate performance space for concerts by nationally known musicians, movies and plays.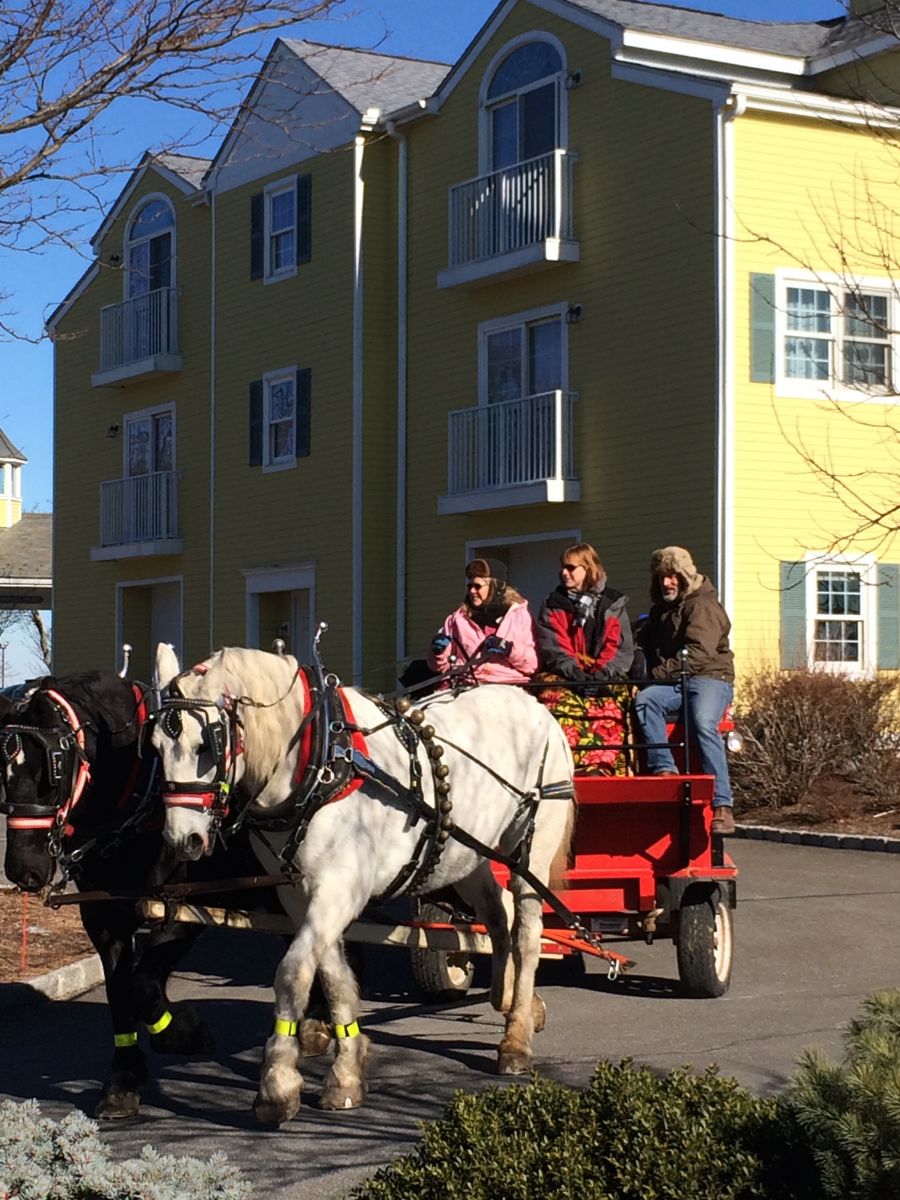 A relatively new attraction to the area is the annual Fire & Ice Festival at the Saybrook Point Inn & Spa. Held each winter, the outdoor-indoor festival features ice carving, sushi and oyster shucking demonstrations. A live band performs, while guests can enjoy fresh seafood, chair massages and craft beer and champagne tastings. To make the kids' smile, there are grilled burgers, horse-drawn wagon rides, children's movies and face painting.