USA/South: Leesburg, VA
That Cursed Ball's Bluff
Overview
The Highlights: A Civil War battlefield; wineries, vineyards and tasting rooms; river sports on the Potomac River.
Other Places Nearby: Middleburg horse country, the Smithsonian National Air and Space Museum's Steven F. Udvar-Hazy Center.
Meetings & Event Options: One-of-a-kind venues range from an historic Greek Revival estate to the 265,000-square-foot National Conference Center.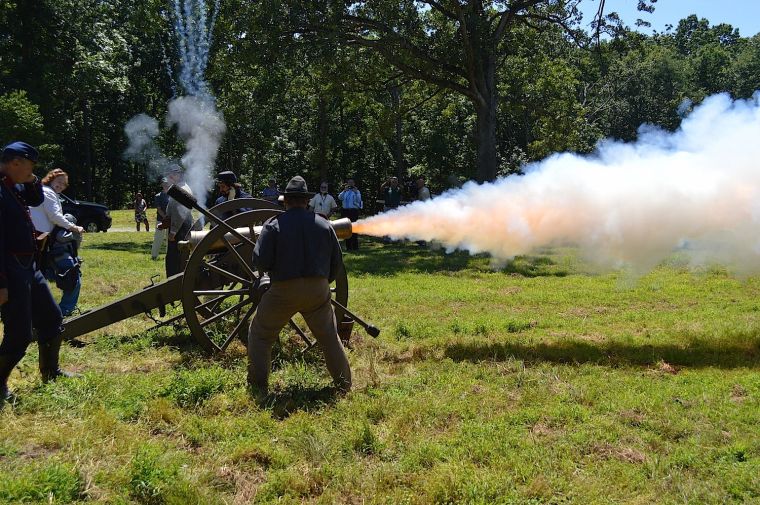 Not so long ago, Leesburg was a small crossroads town surrounded by miles of verdant farmland. The Potomac River hugged its eastern boundary, and the easternmost ridge of the Blue Ridge Mountains loomed to the north.
These natural attributes remain, of course, but Leesburg, the county seat of Loudoun County, is no longer a sleepy village once regarded by many Washingtonians as simply a rural weekend getaway 35 miles northwest of the capital. In little more than three decades, the town's population mushroomed from 8,300 to 47,000. Pastureland gave way to housing developments. Big-box stores and a sprawling outlet mall took shape along its outer thoroughfares. A bypass was constructed to manage traffic flow.
A walk on hallowed ground
One place that remains untouched by time, however, is Ball's Bluff, site of an early battle in the Civil War. On Oct. 21, 1861, just six months into the war, Federal and Confederate soldiers clashed on a ridge high above the Potomac River, a couple of miles from the heart of Leesburg. The spot is now Ball's Bluff Battlefield Regional Park where you can walk on interpretive trails cut through woodland to a precipice high above the river. An active volunteer group offers guided tours of the 221-acre park on Saturdays and Sundays at 11 a.m. and 1 p.m. from early April to late November.
But with seven miles of trails, including a mile-long loop trail to the bluff, the spot is ideal for a contemplative walk in the woods at any time. The park is also the site of a national cemetery—the nation's third smallest. A path leads a quarter mile from the parking area to the burial ground, where a brick fence surrounds a semicircle of 25 graves. The graves contain the bodies of 54 soldiers who died that day. They' were hastily buried after the battle in shallow trenches. At war's end, unearthed remains scattered around the site were distributed among the graves. All but one are unidentified.
The Battle of Ball's Bluff has been characterized as a "confused melee." More of a skirmish than an outright battle, it involved about 1,700 men on either side. (By comparison, 160,000 soldiers fought at the Battle of Gettysburg.)
In the early stages of the war, many soldiers were ill-trained for battle. They were lawyers, farmers and, at Ball's Bluff, one high-profile politician. Col. Edward Dickinson Baker, a U.S. senator, close friend of Abraham Lincoln and a commander of the Union side, would become the only U.S. senator to die in battle. Another notable in the battle was Oliver Wendell Holmes Jr., a future associate Supreme Court justice, who was seriously wounded that day.
The fighting began after a team of about 20 Union troops crossed to the Virginia side from Harrison Island in the middle of the river. It was to be a simple reconnaissance mission. As they crept through the woods under cover of darkness, they mistook a row of trees for Confederate tents. They reported back to their command and at dawn on Oct. 21, a Union raiding party of about 300 men returned to the Virginia side of the river.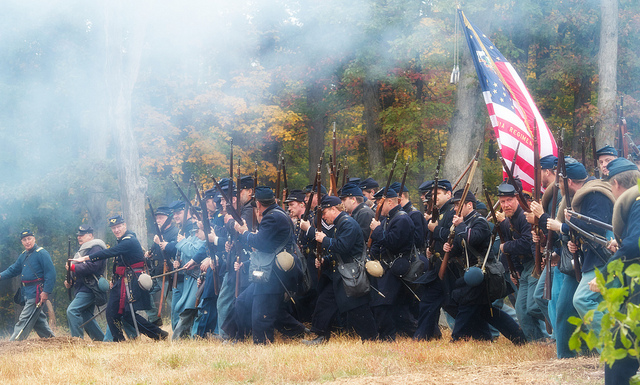 In the light of day, however, they realized the mistake: There was no Confederate encampment. When word of that fact got back to the Union command, they deployed another 350 members of the 15th Massachusetts Infantry with instructions to move toward Leesburg and continue the reconnaissance. In the meantime, Confederates spotted the Union soldiers and fighting ensued.
"The whole thing took on a life of its own," says Jim Morgan, chairman of Friends of Ball's Bluff Battlefield.
Upon learning of the fighting, Baker, who was still on Union turf, ordered more troops to cross the river. But a dearth of boats created a bottleneck, and it wasn't until 3 p.m. that Baker and reinforcements finally arrived, and fighting began in earnest. More Confederate reinforcements, whose knowledge of the terrain outmatched the Federal troops', arrived. Baker died at around 4:30 p.m. Fighting continued unabated until after dark.
Finally, the Union soldiers, driven back to the bluff in the final rout, attempted to retreat down its steep slopes and escape to safety across the river. Overloaded boats capsized. Some men drowned. Some were shot as they fled. By day's end, 223 Union troops lay dead. The Confederates suffered only 36 fatalities. The next day, bodies were reported floating as far downriver as Washington and Mount Vernon.
Battles with many more soldiers and casualties would soon overshadow what happened atop the ridge of the Potomac River. The Confederates, though, considered the skirmish an impressive victory, while a defeated Federal soldier remembered it only as "that cursed Ball's Bluff."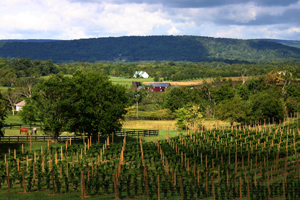 Welcome to wine country
Beyond the battlefield, there's plenty to see and do. Leesburg and its environs remain a rural getaway, but one with big-city amenities including top-notch eateries and stellar resorts and lodgings.
Recent decades have given rise to a robust wine industry, giving rise to the slogan: "D.C.'s Wine Country." Forty wineries—the greatest concentration in Virginia—dot sprawling Loudoun County. They're divided into six "clusters," and a free touring map assists visitors in organizing trips around a single region, or venturing to multiple locations. Tasting rooms range from those in historic buildings, like Hillsborough Vineyards with its 1840s stone barn and views of the Blue Ridge Mountains from its patio, to the sleek, glass-and-stone-walled tasting room with a round, stainless-steel tasting bar at Boxwood Estate Winery in Middleburg.
The wine industry may be firmly rooted in the county, but craft breweries and distilleries are making inroads, as well. Ten breweries are in operation. And many more are poised to open, thanks to a law passed in 2014 that allows small brewery operations on farms that produce ingredients used in the beer.
Those with a taste for something stronger can stop by Cacoctin Creek Distilling Co. in Purcellville, 10 miles west of Leesburg. Billed as the first family-run distillery to open in Loudoun County since Prohibition, it offers tours and tastings in its storefront on Purcellville's main drag.
Along the narrow country lanes that thread through the county's back roads are tiny historic towns—Hamilton, Purcellville, Middleburg, Bluemont and more, where antiques shops, roadside eateries, historic estates and sprawling horse farms beckon visitors to pull over for closer inspection.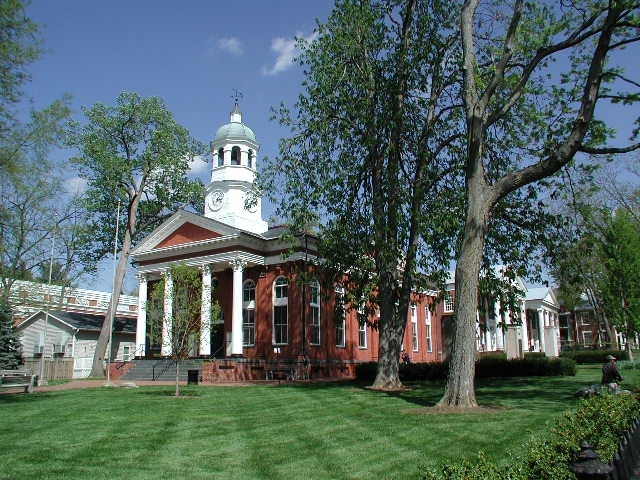 A well-preserved historic downtown
Although a lot of close-in farmland now sprouts housing developments, Leesburg's 36-block historic core reflects its 18th- and 19th-Century origins. On the National Register of Historic Places since 1970, the downtown is among the state's best preserved.
Its historic core, where the British Colonial Council established a courthouse in 1758, sits at the crossroads of the Old Carolina Road (now U.S. Route 15) and the Potomac Ridge Road (present-day Route 7).
The first European settlers, moving north from Virginia's Tidewater region, arrived in the late 1730s. They established farms and plantations and the town prospered. A historical footnote: During the War of 1812, when British forces converged on Washington, burning the White House, Leesburg served as a safe haven for priceless documents, including the Declaration of Independence, the U.S. Constitution and portraits of Colonial leaders.
Leesburg's classic courthouse square hosts concerts and other events. Stone and brick storefronts house art galleries, antiques emporiums, restaurants and one-of-a-kind shops. Restored buildings, such as the 1888 Peoples National Bank, have found new life. The bank, a Romanesque Revival beauty built in 1888, has since 1999 housed Lightfoot Restaurant. It's named in honor of Francis Lightfoot Lee, the Declaration of Independence signer for whom the town was named.