USA/Mid-Atlantic: Rivertowns, NY
'Hipsturbia' along the Hudson
Overview
The Highlights: A 19th-Century aqueduct footpath connecting three villages next to the majestic Hudson River; locations where popular movies and TV shows were filmed; great dining in all price ranges; easily accessible by train from New York City.
Other Places Nearby: Washington Irving's Sunnyside home; the Lyndhurst mansion; Rockefeller State Park Preserve; the Rockefeller family's Kykuit estate; Sleepy Hollow; Philipsburg Manor; Tarrytown restaurants and Tarrytown Music Hall.
Meetings & Event Options: Multiple hotels and venues with meeting space for small to mid-size groups; beautiful wedding locations.
The scenic Rivertowns only 15 miles north of Manhattan's Times Square are now the "in" places to live and visit.
Once known only as bedroom communities for New York City commuters, the scenic villages of Hastings-on-Hudson, Dobbs Ferry and Irvington on the eastern bank of the Hudson River have been transformed by an influx of trendy restaurants, cool shops and filmmakers enamored with the towns' settings.
The New York Times called the three villages "hipsturbia," because young residents and family are leaving New York City's high real estate prices and finding better prices and hip locales north of the city line. They're also finding a much more relaxed lifestyle, beautiful waterside parks, a great walking path on a 19th-Century aqueduct and nearby historic homes and mansions that were a significant part of America's history.
The world got a glimpse of the Old Croton Aqueduct — a highly recommended outdoors area in this Short Escape's Walks & Bike Rides section — in DreamWorks Pictures' 2016 movie and box-office smash The Girl on the Train. The film's star, Emily Blunt, said the most challenging scene to shoot was in a granite tunnel under the aqueduct on Irvington's Station Road.
Besides Irvington, scenes for The Girl on the Train were shot in Dobbs Ferry, Hastings-on-Hudson and nearby Ardsley. If you felt some scenes oozed uneasiness and fear, you can credit a machine that used water and glycerin to create a spooky mist.
Two popular HBO series, Divorce and Leftovers were filmed in the Rivertowns, and another HBO series, Girls, shot some scenes in Hastings-on-Hudson. Divorce stars former Dobbs Ferry resident Sarah Jessica Parker who won two Emmy awards for her leading role in Sex and the City.
Scenes for The Dinner, which is based on a Herman Koch novel and stars Richard Gere, were also shot in Dobbs Ferry. The movie premiered at the Berlin Film Festival in February 2017.
The filming activity has added bustle to these three normally peaceful villages but so has a lively culinary scene.
Bread and Brine, a Maine-style oyster bar and restaurant, and Boro6, a wine bar "in the spirit of a European taverna, opened in Hastings-on-Hudson in 2016. Irvington's popular Indian bistro, Chutney Masala, moved into a new, larger space that can better handle its cooking classes, and many other long-established eateries — some at scenic riverside locations — serve excellent fare in all price ranges.
The Rivertowns may no longer be a well-kept secret, but it's their age-old geographic beauty that's still the key to their lure.
Behind the villages, wooded hills rise steeply off the riverbank camouflaging the many homes that cover them. The views across the Hudson River are spectacular: towering basalt cliffs called The Palisades rise vertically from the river's west bank. The Palisades extend about 20 miles from Jersey City, N.J., to Rockland County, N.Y., and are 540 feet tall in some areas.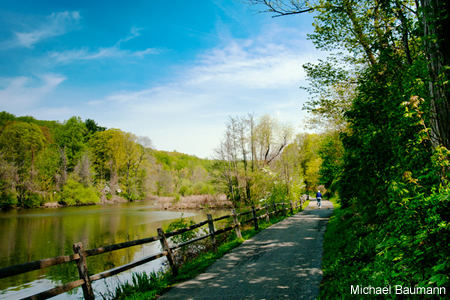 Each of the three villages comprising the Rivertowns has a riverfront park and a quiet downtown with historic buildings, shops, restaurants and bars. Irvington established a historic district in its picturesque Main Street area which includes more than 200 buildings built between 1850 and 1930. Further back in history, General George Washington and his Continental Army soldiers encamped in Dobbs Ferry during the summer of 1781 before their 400-mile march to Virginia where they defeated the British at the Battle of Yorktown in a turning point of the Revolutionary War.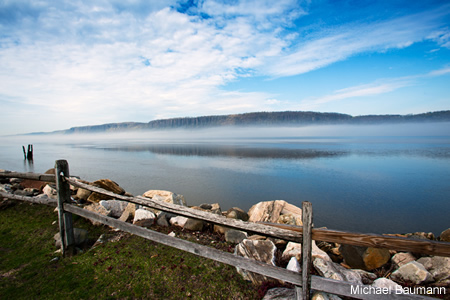 The three villages are easy to access for anyone walking or cycling on the Old Croton Aqueduct. Visitors to Manhattan enjoy Central Park and the High Line in Chelsea, but most are unaware of the nearby aqueduct, another wonderful outdoors destination. It's a peaceful, scenic dirt path without throngs of people, and its many surrounding trees provide plenty of shade during hot summer days.
The aqueduct was a gargantuan public works project built in the 1830s to bring water from the Catskills to Manhattan. It features extensive viaducts and stonework that create a level path in the hilly terrain. The path stretches about seven miles behind the homes of local residents, anchored on both ends by stunning parks. It's easy to arrive at any of the villages by train, then walk or cycle north or south and return by train from an adjoining village.
Although the Rivertowns have been home to such notables as Daniel Ellsberg, Mark Zuckerberg, Meredith Vieira, Peter Martins, Ricki Lake and many others, residents prefer quiet anonymity. In fact, one almost senses a conspiracy to keep these villages off the tourist maps, because they offer a surprisingly undiscovered retreat for business or pleasure travelers to New York City.
The villages, though, may have particular appeal to foreign visitors and Americans visiting without a car, because they are a short Metro-North train ride from Manhattan's Grand Central Station. The ride alongside the Hudson River provides great views, including some that were the backdrop for a famous scene in Alfred Hitchcock's North by Northwest.
The Rivertowns has a thriving arts scene. RiverArts produces and promotes top-quality cultural events and educational programs that support local artists. Upstream Gallery in Hastings-on-Hudson is a unique exhibition space presenting the works of local painters, sculptors, photographers and other artists. The village also includes the Newington-Cropsey museum where tours can be scheduled to view the home and the works of Hudson River School painter Jasper Cropsey.
Another notable place to visit is Irvington Town Hall's beautiful Tiffany Reading Room, one of the few remaining interiors of Louis Comfort Tiffany. Tiffany, the son of Tiffany & Co. founder Charles Lewis Tiffany, was a renowned artist, decorator and glassmaker. Charles Tiffany donated the property on which the Town Hall was built with the stipulation that it would always have a free public reading room.
There are also many attractions just north and south of the Rivertowns.
In Yonkers, the city south of Hastings-on-Hudson, there is the exotic Untermyer Gardens, an imaginative 19th-Century floral garden with extensive statuary. The gardens once sprawled over 150 acres and were developed by Samuel Untermyer, the first American lawyer to earn $1 million on a single case. Born in 1858, Untermyer was also instrumental in the establishment of the Federal Reserve System and the leader of an unsuccessful early 1930s movement calling for a worldwide boycott of Germany and the destruction of Adolf Hitler's regime.
North of the Rivertowns are numerous sites of historic, architectural and geographic importance. On Irvington's northern border is an entrance to Sunnyside, Washington Irving's riverside home in Tarrytown. Irving, who wrote The Legend of Sleepy Hollow and became America's first internationally known author, had a romantic view of art, nature and history that is apparent on Sunnyside's grounds and paths.
Sunnyside is a very short diversion off the Old Croton Aqueduct walking path. Just past Sunnyside in Tarrytown, the path brings walkers to Lyndhurst, a Gothic Revival riverside mansion designed in 1838 by Alexander Jackson Davis. It was the home or summer home of former New York City Mayor William Paulding, merchant George Merritt and railroad tycoon Jay Gould.
Tarrytown has a lively restaurant scene, and the Tarrytown Music Hall presents intimate concerts performed by internationally known musicians. Sleepy Hollow, once called North Tarrytown, offers various historic sites, including Philipsburg Manor, a former farming, milling and trading center with a 300-year-old manor house. Tours of the Rockefeller family's nearby Kykuit estate in Pocantico Hills leave from the manor, and pastoral, 1,400-acre Rockefeller State Park Preserve is just a short drive from the estate.