USA/Mid-Atlantic: Rivertowns, NY
'Hipsturbia' along the Hudson
Lodging, Dining & Events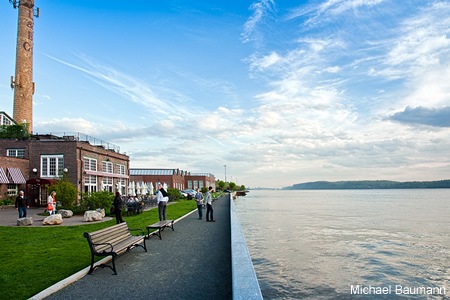 A Budget Base for NYC Visitors and Event Planners
Savvy visitors to New York City have discovered they can save money at Rivertowns-area hotels and still have direct access to Manhattan. All offer shuttles to the nearest Metro-North railroad, with frequent service to Grand Central Station (and even Yankee Stadium during the baseball season).
Similarly, smart meeting and event planners have learned that for mid-size events or even weddings and reunions, the Rivertowns offer perhaps the best variety of options in a concentrated area than any other destination conveniently located near the city. These include four major chain hotels with ample meeting and exhibition space for small and mid-size gatherings—Marriott, Sheraton, Doubletree Hilton and the beautifully situated Tarrytown Conference Center—not to mention the incomparable Castle Hotel for special occasions or corporate retreats. This Relais and Chateau boutique hotel occupies a 19th-Century hilltop mansion with tower suites known both for their luxury and their 360-degree views of the Hudson River Valley. Lyndhurst Castle offers unique options for business or social events, including weddings, and has served as the set for many a movie and television show.
For the casual tourist, almost all of the major brands are represented: Doubtletree Hilton, Hampton Inn, Courtyard Tarrytown Greenburgh, SpringHill Suites Tarrytown Greenburgh, etc. The Tarrytown Conference Center and Castle offer the only options for those seeking an inn-like experience, but it's not for budget-minded travelers. Numerous rental homes, apartments and rooms have popped up in recent years and can be rented on the airbnb web site.
A Destination for Foodies
While an Old Croton Aqueduct attracts a healthy share of New York City-area hikers and bikers, an equal number are drawn to the Rivertowns for the surprising concentration of culinary offerings, spanning a broad palette of cuisines, creativity, settings and price ranges. Besides excellent low-cost possibilities for Middle Eastern, Asian and Mexican food in all three villages, the Rivertowns allow you to experience top-flight cuisine, such as at Juniper in Hastings-on-Hudson, where chef Alex Sze and his team have recently expanded into new and larger quarters, or the village's classic French bistro Saint George. Two fine new additions to the Hastings-on-Hudson dining scene are oyster bar/restaurant Bread and Brine and wine bar Boro6.Then there's the Cookery and the Parlor in Dobbs Ferry, where chef David DiBari brings his fresh approach to both continental dining and pizza. In Irvington, options abound: Bobby Manzi's River City Grille, just 100 feet off the aqueduct; Mima, one of the most authentic Italian restaurants in the region, and La Chinita Poblana for creativity in Mexican food that rivals offerings in Manhattan.
For those seeking a Hudson River view, there's Harvest on the Hudson in Hastings, Half Moon in Dobbs Ferry, or Red Hat Bistro and Chutney Masala in Irvington. Adjacent to the train station in Irvington is chef Michael Psilakis's spot for Greek cuisine lovers, MP Taverna. For another great riverside dining experience, get off the train at Yonkers' bustling new waterfront to dine in acclaimed chef Peter Kelly's X2O, whose main dining room merits a detour for any food lover. Its Dylan Lounge offers a taste of the kitchen at a lower cost but doesn't take reservations or offer the same views.
Events and festivals
The Rivertowns feature so many events, there's a complete regularly updated guide to all of them. Events include:
Farmers markets
Flea markets and street fairs
Outdoor and indoor concerts and music festivals
Film festivals
For the latest events, go to: Rivertowns Guide