USA/Mid-Atlantic: Roscoe and Hancock NY
Where the Rivers Flow Together
Event Venues
In addition to the small inns that can accommodate groups listed in Dining and Lodging, there are two unique properties for corporate retreats, reunions and weddings.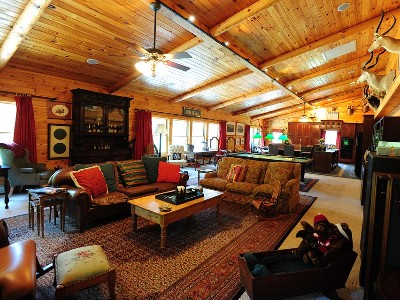 Riverview by Brophy is actually a complex of multiple homes, with a new one under construction and another not far away in a neighboring town. The proprietor once owned a horse that won the Kentucky Derby. The main complex can accommodate dozens of people in three different buildings, some with full bedrooms and baths, others with bunk beds. It has a pool and ample space for outdoor entertainment. Another building under renovation will feature both deluxe bedrooms with private and cubby-hole sleeping arrangements for partiers who don't need to have a window and who are fine with sharing a bathroom. The main property is not far away from the Trump family's riverfront property in Hancock, and his family has been known to throw a private party here. Another large house is located near a lake in a neighboring community. All of the Brophy houses and rooms include kitchen facilities with outdoor barbecue space and are decorated in unique variations of upscale 'rustic chic' that reflect the enthusiastically whimsical and engaging personality of the proprietor.
An enterprising couple from Brooklyn has created a country wedding location in Fish's Eddy, near Hancock, known as Handsome Hollow. It features a small renovated old farm house with kitchen, three bedrooms with two baths, and a large restored barn specifically designed and equipped to host weddings or other group events of up to about 150 people. The location is in a small river valley surrounded by hills covered with forests whose colors change with the season, making it a draw for those seeking great backdrops for a country-themed gathering.