Costa Rica/Guanacaste: Monteverde
A Cloud Forest Layered With Irony
Lodging & Dining
Lodging
On the high end, Hotel Belmar has the most spectacular location, perched on a steep hillside with sweeping views of the Pacific and Nicoya peninsula on clear days. Located adjacent to Santa Elana, the Monteverde Lodge and Gardens offers tasteful, comfortable rooms with views of the jungle. A troupe of Capuchin monkeys came by the hotel on the day of our checkout.
For those who enjoy renting individual cabins, Los Pinos receives high marks, with three sizes of well-appointed cabins. It has its own trails and a viewpoint. Valle Campanas has four comfortable cabins, some with views. Most of the food served comes from their own crops grown on the premises. A favorite B&B is Casa Batsu, which has three separate rooms and a villa. Dinner is also served.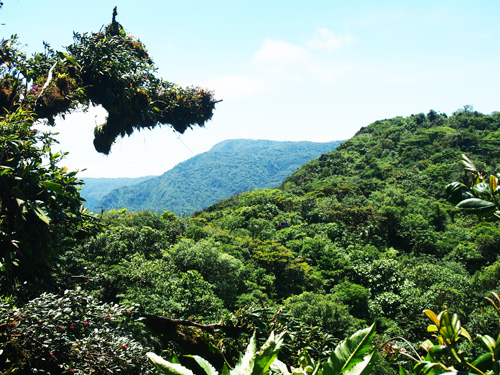 Please note that it is not unheard of the see scorpions in Costa Rica, and even in the best maintained cabin or property one may show up, although we never saw one on our visits. It's a good precaution to check one's shoes before putting them on and looking around the shower stall before stepping in.
Dining
In addition to the good upscale dining at the Restaurante Calejes at the Belmar and El Jardin Restaurant at the Monteverde Lodge and Gardens, you can find plentiful selections of Costa Rican food and will dine with locals at Sabor Tico and Soda La Salvadita, both near Santa Elana.
For Costa Rican home cooking, look for La Cuchara de la Abuela (The Spoon of the Grandmother) behind a store known as the CASEM Co-Op on the road to the Monteverde Cloud Forest Preserve. You can see the kitchen where the grandmother cooks up rich flavorful soups and delicious Casados. The phone number is 506-2645-5190. Sorry, there's no website and the restaurant is not on Tripadvisor.
For a change of pace from Costa Rican food, try Café Carbure restaurant. There's a mix of Middle Eastern, European and tropical flavors, and good coffee and deserts. It's located on the road to the Monteverde Cloud Forest Preserve.
Remember to enjoy the terrific fruit juices and smoothies in Costa Rica, and remember that food hygiene is high here and that while it never hurts to stick to bottled water, refrigerated drinks rather than ice, peeled fruits and cooked vegetables, many can travel around Costa Rica and remain healthy without taking these precautions.