USA/West: Santa Barbara, CA
The American Riviera
Outdoors
Walking & Cycling
Walking and cycling paths abound throughout Santa Barbara and the surrounding Santa Ynez Mountains. You can walk in the sand at waterside on downtown Cabrillo Beach or walk, run or cycle on the beach's flat paved path. The path, which crosses three beaches, extends about 4 1/2 miles from Stearns Wharf to East Beach. Walking tours to historic landmarks, shops, gardens and wineries are other options.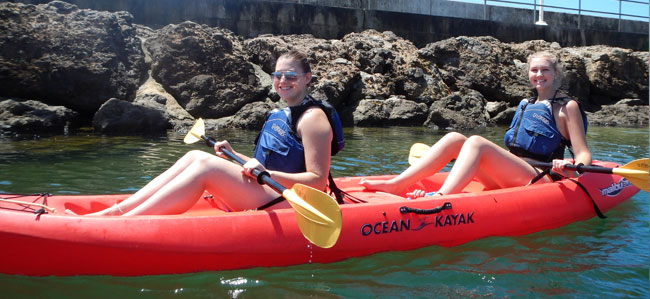 Kayaking & Snorkeling
Paddle Sports Center rents kayaks and stand-up paddle boards. The center has lockers, a changing room and an outdoor shower. If you ferry to the Channel Islands, which are at least 30 miles off the Santa Barbara coast, kayaking and snorkeling equipment can be rented from Channel Island Outfitters. Another option is Santa Barbara Adventure Company.
Swimming
Many miles of beaches are in Santa Barbara and its surrounding area. Some options include East Beach, West Beach, Butterfly Beach and Arroyo Burro Beach.
Fishing
Private charters and half-day or longer fishing trips can be booked at Stardust Sportfishing. You can expect to reel in rockfish, lingcod, whitefish or sand bass.
Diving
Many types of diving trips are offered by Truth Aquatics. Most explore the waters near the Channel Islands.