Costa Rica/Guanacaste: La Fortuna
A Destination Built by Fire
Lodging
La Fortuna and the surrounding area has a number of quality hotels and inns at all price ranges. We have selected those that enable people to experience the atmosphere of the rainforest and of the local Costa Rican culture. Some have excellent spa facilities or pools fed by hot springs. If you arrive without a car, you'll have to allow in most cases for taxi transportation if you wish to dine off property. All of these hotels are small, with 50 rooms or less, some with independent villas or cabins. While most can accommodate small family reunions, weddings, corporate retreats and incentive groups, the area is light on facilities for actual meetings.
Although the Arenal volcano is currently in a resting state, it is still considered active and could potentially erupt again with little warning. Here's a map of the danger zones for anyone who wishes to take this rather unlikely consideration into account, as the probability of it blowing without any warning when any particular traveler is there would be rather remote. Note: Hotels can no longer be built in the danger zone.
The elegant, luxurious yet tasteful Nayara Springs is situated in the rainforest, enabling travelers to experience both a high level comfort with a view of nature integrated into every room. It has spacious, well-appointed villas with a comfortable contemporary design, excellent views of the forest and volcano, pools fed by local hot springs, highly regarded service, a refined restaurant and a spa. It can accommodate small groups and is under 15 minutes from La Fortuna.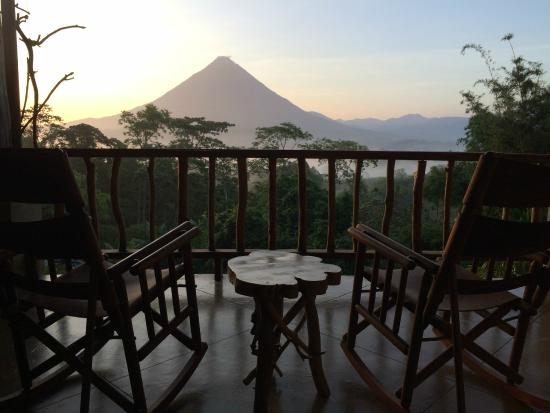 Another great option for individuals and small groups is The Lost Iguana Resort and Spa. The rooms are located in small buildings arrayed on a heavily wooded hillside with great views of the volcano and surrounding jungle and gardens. A hearty buffet breakfast is included. The spa experience is uniquely integrated with the rainforest, the restaurant offers both Costa Rican and international fare of good quality, and the hotel has rights to morning and evening tours of the nearby Arenal Hanging Bridges canopy walk, which can be unpleasantly crowded during the day. The hotel has a small open pavilion with a view of the volcano suitable for a wedding or small meeting. The only drawback is its location—12 mi. (20 km.), or about a half hour by a good road to La Fortuna that is easily drivable at night.
The Leaves and Lizards Retreat offers high-end cabins in a rural setting about a half hour north of La Fortuna and down a dirt road for extra seclusion. To enhance the jungle experience, there is no air conditioning; it's located on a hilltop with rooms situated to catch the steady trade winds that blow through the area. It has a restaurant on the property and beautiful views of the countryside and volcano in the distance. The hotel can accommodate small weddings, retreats, and other groups up to about 40 people.
Moving down in cost, but only a little in quality, is the Rancho Cerro Azul, surrounded by exotic gardens, birds and wildlife. It's just a short distance from both La Fortuna and the La Fortuna Waterfall and its hiking trails. It has eight cabins and good views of both the Arenal Volcano and Cerro Chato from the property.
Also on the more moderately-priced side, the Hotel Kokoro Arenal offers comfortable cabins and suites in various sizes with different decors drawing upon local themes. It has a pool fed by hot springs and a restaurant on location, and is under 15 minutes from La Fortuna.